Watch the Throne by The Throne Read Reviews

New album on iTunes Monday and in stores Friday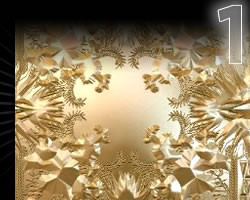 The two biggest names in hip-hop, Kanye West and Jay-Z, unite as The Throne for a much anticipated and speculated upon full-length release. Initially available digitally on Monday and physically available on CD on Friday, Watch the Throne is a 12-song album that includes production from Swizz Beatz, The Neptunes, Q-Tip, RZA, and Kanye himself; it also includes guest appearances from Beyoncé, hyped Odd Future member Frank Ocean, and R&B artist Mr. Hudson. The first single "Otis" suitably features a liberal sample of Mr. Otis Redding himself.
It's a musical game of thrones at the official website.
30 Minutes or Less Read Reviews

In theaters Friday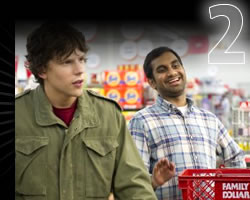 The summer of R-rated comedies is winding down with the latest from Zombieland director Ruben Fleischer and star Jesse Eisenberg. 30 Minutes or Less, opening Friday, also stars Danny McBride, Nick Swardson, and Aziz Ansari and is very loosely based on a real-life 2003 incident in which a pizza deliveryman was allegedly forced to rob a bank when a bomb was strapped to him. Actors Fred Ward and Michael Peña also lend a hand in balancing the comedy and action.
Experience explosive laughter at the official website.
Skying by The Horrors Read Reviews

New album in stores Tuesday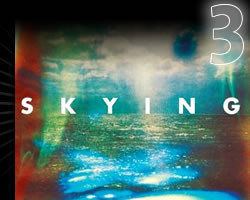 Coming off of a heralded sophomore album (Primary Colours 82) that completely redefined their sound, The Horrors are back with a record that's more Psychedelic Furs than Bauhaus. Skying, available Tuesday, is preceded by dreamy single "Still Life" and leaps forward into an even more pop-friendly field without sacrificing the band's edge. International fans will be able to see the band at the Reading, Leeds, and Rock en Seine festivals; those in the States will have to wait until next month when The Horrors launch their U.S. tour in Seattle on September 8th.
Stream the entire album at The Horrors' official site.
This Has to Be Funny by Marc Maron

New comedy album in stores Tuesday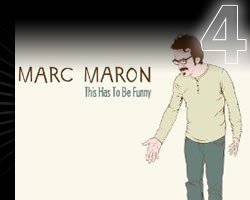 Comedian Marc Maron has been doing stand-up for years but has recently blown up thanks to his successful WTF with Marc Maron podcast in which he has revealing and hilarious conversations with other comedians. After a recent victory lap of talk show appearances on Late Night with Jimmy Fallon and Real Time with Bill Maher, Maron is releasing a new comedy album. This Has to Be Funny comes out Tuesday via Comedy Central and was recorded at Brooklyn's Union Hall.
Visit the cat ranch at the official website.
The Help Read Reviews

In theaters Wednesday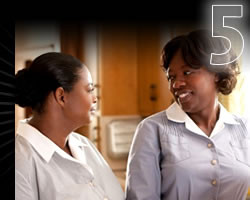 2009's literary phenomenon The Help, an integration-era novel about two maids and a socialite who write a book about the harsh reality of being a maid in the South, has been adapted into a feature film that's coming out Wednesday. The film, written and directed by relative newcomer (and actor) Tate Taylor, stars Emma Stone (who is also in the underrated Crazy, Stupid, Love.), Viola Davis, and Octavia Spencer and is loaded with strong support from Allison Janney, Sissy Spacek, and Cicely Tyson.
Help yourself to the official website.
Glee: The 3D Concert Movie Read Reviews

In theaters Friday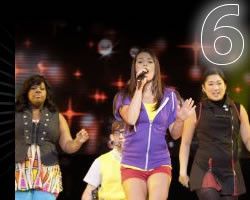 If you're suffering from Glee withdrawal and can't wait for the September 20th season 3 premiere on Fox, you can catch the gang on the big screen for a limited time only … in 3D! Glee: The 3D Concert Movie hits theaters Friday for two weeks and features performances and backstage shenanigans from this summer's live concert tour. Gleeks will be thrilled to know that all New Directions glee club members are featured, as are Warbler Darren Cris, scene-stealer Jane Lynch, and occasional Glee guest star Gwyneth Paltrow.
Don't stop believing at the official Facebook site.
Closing the book on last week
Weekend Box Office Champion (Estimated, U.S. only; source: Boxofficemojo.com)
Rise of the Planet of the Apes

69

$54.0 million; 1st week at #1
#1 Album on Billboard 200 (Source: Billboard.com/Nielsen SoundScan)
Eric Church: Chief

76

1st week at #1
Top-Rated Primetime Broadcast Show (Source: Nielsen)
America's Got Talent (NBC) [Tue]
11.5 million viewers; week of 7/18-7/24