The Dark Knight Rises Read Reviews

In theaters Friday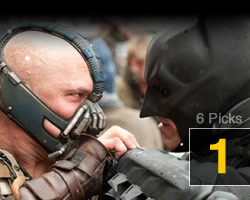 The year's most anticipated movie is finally here... or, at least, it will be at 12:01a Friday morning, in theaters that sold out six months ago. Christopher Nolan's third and final Batman film follows a pair of critically acclaimed blockbusters (Batman Begins 70 and The Dark Knight 82) that impressed even those moviegoers not normally into comic book films. The Dark Knight Rises returns stars Christian Bale, Gary Oldman, Michael Caine, and Morgan Freeman while adding Anne Hathaway as Catwoman and Tom Hardy as menacing bad guy Bane. Almost half of the film's nearly three-hour running time was shot using high resolution IMAX cameras—it has more large-format footage than any studio film in history—so you'll want to see this one on the (very) big screen. But what are we saying? You already have tickets.
Revisit Gotham City at the official movie site.
Shut Up and Play the Hits

Screening Wednesday night in select theaters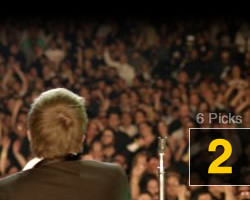 James Murphy may have pulled the plug on indie dance-rock hitmakers LCD Soundsystem, but at least they went out with a bang. And anyone who didn't get a chance to see Murphy's band play one final hometown concert in front of a sold-out Madison Square Garden audience in 2011 can do so now in the new documentary Shut Up and Play the Hits, which will get a one-night-only theatrical screening this Wednesday after impressing audiences at Sundance in January. Already sold out in some cities (prompting the addition of second screenings in some cases; see the link below for info), the film features plenty of performance footage in addition to chronicling the 48 hours in Murphy's life before and after the show.
Get a list of theaters showing the film on Wednesday at the official site.
Comedians in Cars Getting Coffee

Web series premieres Thursday at 9p EDT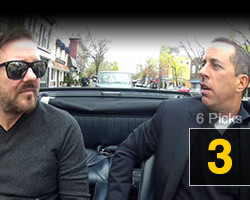 Jerry Seinfeld doesn't appear to have any interest in returning to series television anytime soon, so his new web series (a Crackle production) will have to do for now. Launching Thursday night, the rather self-explanatory Comedians in Cars Getting Coffee finds Seinfeld jumping into the booming comedians-discussing-their-craft genre with the added spin that, in this case, he and a guest comic literally go for a spin prior to conversing at a coffee shop. The good news is that the comedian-turned-chauffeur will have plenty of interesting guests on hand, including former cohorts Michael Richards and Larry David, the obligatory Ricky Gervais, plus Alec Baldwin and Colin Quinn.
Watch the new web series about nothing at the official site.
Life Is Good by Nas

New album in stores Tuesday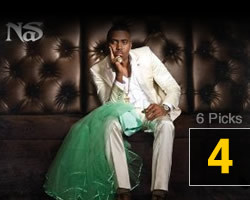 With Frank Ocean's Channel Orange getting a surprise release a week early (to rave reviews), our music pick for the coming week falls to another artist who is no stranger to critical acclaim himself. Rapper Nas made a name for himself over the past two decades with critically acclaimed albums like 1994's Illmatic and 2002's God's Son 81, and while he is less prolific these days—this week's Life Is Good is just his first proper release in four years—he still tends to receive plenty of positive reviews while continuing to top sales charts. This tenth studio album includes a collaboration with the late Amy Winehouse as well as features from Mary J. Blige, Large Professor, and Rick Ross, while production comes from the likes of Salaam Remi and No I.D.
Find out how good life is at the MC's official site.
The Queen of Versailles Read Reviews

In limited release beginning Friday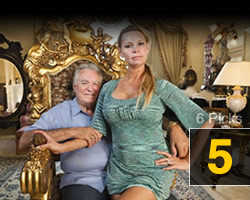 Well regarded when it premiered at Sundance earlier this year, The Queen of Versailles documents the epic "riches to rags" story of billionaire timeshare real estate mogul David Siegel, his wife Jackie, and their under-construction 90,000 square foot dream house, the largest and most expensive residence ever built in the United States. When the economy crashes, that house and their exceptionally extravagant lifestyle are threatened. Part voyeurism, part Schadenfreude, and fully entertaining, Queen plays like well-made reality television (director Lauren Greenfield was awarded at Sundance) while also serving as a timely critique of American consumer culture.
Long live the queen at the official film site.
Hara-Kiri: Death of a Samurai

In limited release beginning Friday (On Demand beginning Wednesday)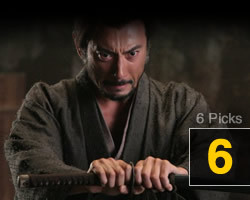 Prolific (and often controversial) Japanese filmmaker Takashi Miike made a name for himself in international circles with violent films like Audition 69 and Ichi the Killer 50. Last year, however, the director earned perhaps the best reviews of his career with a more conventional samurai tale, 13 Assassins 87. His latest work to get an American release is a return to the samurai genre, and, like the previous film, a remake (in this case, of Masaki Kobayashi's 1962 classic Harakiri). But don't expect another dose of non-stop action, or much of a happy ending. Instead, Death of a Samurai is a smaller-scale and restrained (though, oddly, 3D) drama about an impoverished ronin who seeks to commit ritual suicide. The film divided critics when it played the festival circuit (including Cannes) last year, but, then again, most Takashi Miike films do.
Get more information about the American release (via Tribeca Film) at the official site.
Closing the book on last week
Most Popular Title on Metacritic.com
Breaking Bad: Season 5

98

Week of 7/8-7/14
Weekend Box Office Champion (Estimated, U.S. only; source: Boxofficemojo.com)
Ice Age: Continental Drift

48

$46.0 million; 1st week at #1
#1 Album on Billboard 200 (Source: Billboard.com/Nielsen SoundScan)
Chris Brown: Fortune

41

1st week at #1
Top-Rated Primetime Broadcast Show (Source: Nielsen)
America's Got Talent (NBC) [Mon]
10.4 million viewers; week of 7/2-7/8