Breaking Bad Read Reviews

Season 5 premiere Sunday at 10p on AMC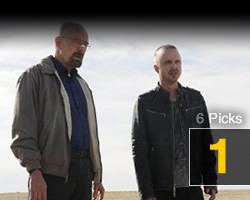 "We're done when I say we're done," says Brian Cranston's increasingly menacing and powerful Walter White in the trailer for the fifth season of AMC's Breaking Bad, which in recent years has been the most critically acclaimed show on television. (Even though reviews aren't available at press time, we're not expecting that to change this season). The good news for fans is that, despite this being the drama's final "season," Emmy winners Cranston and Aaron Paul and the rest of the oh-so-good Bad cast aren't quite done yet; eight of the season's 16 episodes will be held back until next summer, so you'll still have something to look forward to. Just what that something may be is unclear—creator and showrunner Vince Gilligan has kept plot leaks to a minimum—though we do know that Scottish actress Laura Fraser and Jesse Plemons (Lance Landry on Friday Night Lights) will have recurring roles, while it's also possible that a popular character from last season could return via flashbacks.
It's time to start cooking again at the official website.
Comic-Con

Annual convention runs Thursday-Sunday in San Diego, California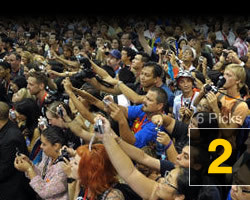 Breaking Bad (with cast members on hand and an advance screening of the premiere) will be just one of the many TV panels featured at this year's installment of San Diego Comic-Con International, which, at least in terms of headlines, appears to be only tangentially related to comics these days, thanks to an ever-increasing focus on movies and TV. This year's sold-out event (which once again should draw over 125,000 visitors over four days) will also include panels for shows such as Community, Game of Thrones, Fringe, Dexter, Firefly, Childrens' Hospital, and this fall's Revolution, while upcoming movies such as Django Unchained, The Hobbit, Man of Steel, Pacific Rim, Elysium, Total Recall, Looper, and Iron Man 3 and videogames ranging from Halo 4 to Assassin's Creed 3 will also fill auditoriums.
Get all the details about this weekend's convention at the official site.
Political Animals Read Reviews

Series premiere Sunday at 10p on USA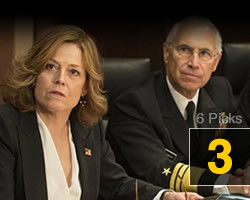 Whether you call it an "event" (as USA does), a miniseries, or a regular series that happens to run for just six episodes (for now, though it could return in the future), this ambitious new drama from Brothers & Sisters creator Greg Berlanti is shaping up to be the cable network's most promising original program in some time. Making her first regular television appearance, Sigourney Weaver stars as a Hillary Clinton-esque former first lady turned politician who loses her party's primary to the man who eventually becomes president (Adrian Pasdar), but joins his cabinet as Secretary of State. The drama, which follows the inner workings of the administration amidst various crises, also stars Carla Gugino, James Wolk, Ellen Burstyn, and Ciarán Hinds, while Vanessa Redgrave guests as a lesbian Supreme Court justice.
Vote Sigourney at the official show site.
Damages Read Reviews

Season 5 premiere Wednesday at 9p on DirecTV (Ch. 239)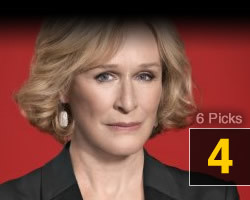 Damages doesn't get the same amount of press it used to since moving from cable to DirecTV, but the Glenn Close legal drama still collected plenty of critical accolades last season, and could again this year when it returns for its fifth and final season. As is typical for the series, the upcoming season will feature several notable guest stars, including Ryan Phillippe, Jenna Elfman, Janet McTeer, M. Emmet Walsh, and John Hannah, and will feature a storyline about a WikiLeaks-like website that has Close's Patty Hewes and Rose Byrne's Ellen Parsons on opposing sides of a major trial. Following Wednesday's Damages premiere, DirecTV will also debut the British miniseries Hit & Miss, which stars Chloë Sevigny as an Irish transgender assassin who discovers that (s)he fathered a child a decade ago.
Choose a side at the official Damages site.
Love Rock Revolution: K Records and the Rise of Independent Music

New book in stores Tuesday
The Olympia, Washington music scene has given birth to numerous bands that would go on to (inter)national fame over the past three decades, and many of those acts at one time recorded for K Records, the independent label co-founded by Calvin Johnson (himself a key member of the scene, performing in groups including Beat Happening). Written by Mark Baumgarten, the new book Love Rock Revolution chronicles the history of the underground label and with it the early days of artists including Modest Mouse, Built To Spill, Beck, and Gossip, though the emphasis is on Johnson and his ongoing attempts to stay true to his punk roots.
Get updates at the author's tumblr or read an excerpt from the book at CityArts.
Easy Money Read Reviews

In limited release beginning Friday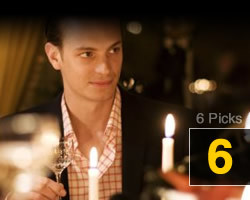 Released in Sweden in 2010 (when it was known as Snabba Cash), Easy Money follows three men trying to make their way in the Stockholm drug trade. Jorge (Matias Padin Varela) is an escaped convict trying to put together a major cocaine deal, Mrado (Dragomir Mrsic) is an enforcer for the Serbian mob trying to take control of the drug trade, and J.W. (rising star Joel Kinnaman of The Killing and the upcoming Robocop remake) is a student whose need for money gets him involved with some unsavory characters. The film is based on the debut novel by bestselling Swedish crime novelist Jens Lapidus and is directed by Daniel Espinosa, whose first Hollywood film, Safe House 52, went on to gross over $200 million worldwide. The Weinstein Company finally brings the film in the U.S. this week with Martin Scorsese's endorsement and with Snabba Cash II hitting cinemas in Sweden this August.
Check out Joel Kinnaman in something other than a hoodie at the official website.
Closing the book on last week
Most Popular Title on Metacritic.com
The Amazing Spider-Man

66

Week of 7/1-7/7
Weekend Box Office Champion (Estimated, U.S. only; source: Boxofficemojo.com)
The Amazing Spider-Man

66

$65.0 million; 1st week at #1
#1 Album on Billboard 200 (Source: Billboard.com/Nielsen SoundScan)
Linkin Park: Living Things

57

1st week at #1
Top-Rated Primetime Broadcast Show (Source: Nielsen)
America's Got Talent (NBC) [Tue]
11.7 million viewers; week of 6/25-7/1