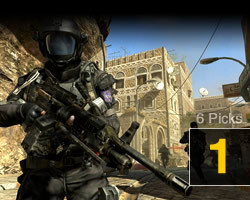 Autumn can only mean one thing for gamers: it's time for another Call of Duty game. Because it's an even-numbered year, this year's installment is developed by Treyarch, who last gave us 2010's mega-hit Call of Duty: Black Ops. While that game was set during the 1960s, however, the new Black Ops II moves things ahead considerably, becoming the first CoD game to use a futuristic setting; one of the twin storylines takes place in 2025; the other is set during the 1980s. That 2025 campaign (featuring locations ranging from Los Angeles to Yemen) revolves around a new Cold War between the U.S. and China, and features all of the robots, driverless vehicles, cyberattacks, and gizmos you'd expect from our dreary future. In addition, the story will change depending on choices you make and the success of your missions. If you think that sounds like too much of a change for the series, don't worry: you'll still have plenty of chances to shoot friends and strangers in multiplayer (the real reason you'll be buying this on Tuesday), and, yes, zombie mode is back (including in the campaign, if you so desire). Expect reviews to arrive once the embargo lifts at midnight on Monday.
Heed the call at the official game site, or listen to Trent Reznor's Black Ops II theme.
Wii U

New gaming console in stores Sunday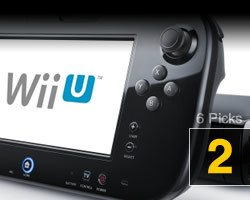 After an unusually long six-year gap without a major new gaming console from any of the industry's big players, Sunday will finally bring the first eighth-generation device in the form of Nintendo's successor to the hit Wii console, dubbed the Wii U. While the new console brings a much-needed HD graphics upgrade (roughly equivalent to current 360/PS3 standards) that means Wii gamers will finally get to enjoy AAA multi-platform titles that previously shunned Nintendo devices, the key selling point is a bulky new touchscreen controller which theoretically could offer game developers a unique opportunity to incorporate a second screen into their titles, should one figure out why that would be necessary. (Though, since the controller doubles as a universal remote, you could find yourself using it quite a bit even when you aren't gaming.) Launch titles for the $300 console include the aforementioned Call of Duty: Black Ops II, other third-party ports such as Mass Effect 3 and Batman: Arkham City, and the exclusive platformer New Super Mario Bros. U, Expect additional Wii U exclusives in the coming months, including Rayman Legends, strategy game Pikmin 3, and promising GTA-style open world adventure Lego City Undercover.
Study up on the new console at the Wii U official site.
Silver Linings Playbook Read reviews

In limited release beginning Friday (nationwide on November 21)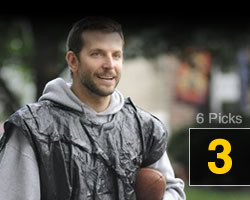 David O. Russell's follow-up to his 2010 Oscar-nominated film The Fighter 79 has been generating buzz ever since its audience award-winning premiere at the Toronto International Film Festival. Silver Linings Playbook, an adaptation of Matthew Quick's 2008 debut novel, stars Bradley Cooper as a former high school teacher who, upon his release from a mental institution, moves in with his parents (rabid Philadelphia Eagles fans played by Robert De Niro and Jacki Weaver), and meets a young, unstable widow played by Jennifer Lawrence. Chris Tucker plays Cooper's pal from the clinic, who has it easy compared to another buddy (played by John Ortiz) who's struggling with his job, baby, and wife (Julia Stiles), and not necessarily in that order. As usual with Russell's films, the performances are earning praise (especially leads Cooper and Lawrence), and the eclectic soundtrack (Stevie Wonder, alt-J, Alabama Shakes, Bob Dylan, Eagles of Death Metal) and Danny Elfman's score help support this crowd-pleasing film about the difficulties of depression. Thanks to that strong buzz, several cities will now get the film a week earlier than originally planned, beginning this Friday.
Get tips from the playbook on sports, food, and staying positive at official website.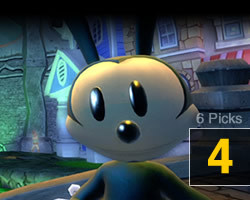 Epic Mickey 73, Disney's first attempt to turn Mickey Mouse into the hero of a complex, darker-than-normal (i.e., not kid-friendly) adventure from Deus Ex designer Warren Spector, was an underwhelming disappointment in 2010. Perhaps the sequel will breathe new life into the franchise. Available for multiple platforms (not just the Wii) beginning Sunday, Power of Two adds a second protagonist to assist Mickey Mouse—original Disney hero Oswald the Lucky Rabbit, who speaks here for the first time ever—that can be controlled by a second player in co-op mode (or by the AI when you are flying solo). In fact, all of the characters will speak in the new game (with a vocal cast led by Cary Elwes), and some will even burst into song. Nintendo 3DS gamers will get their own Epic Mickey title, Epic Mickey: The Power of Illusion (based loosely on the old Sega game Castle of Illusion), on the same day.
See why two is better than one at Disney's official game site.
Anna Karenina Read reviews

In limited release beginning Friday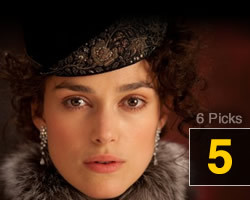 Director Joe Wright's adaptation of Leo Tolstoy's Anna Karenina combines his interest in more stylized filmmaking (Hanna 65) with the period love stories of his early films (Pride & Prejudice 82 and Atonement 85). Reviews have focused on Wright's bold choice to shoot most of the film on a single soundstage, and while some critics have enjoyed the theatrical and cinematic mix, others have expressed reservations, feeling that the style gets in the way of the screenplay from award-winning playwright and Shakespeare in Love 87 writer Tom Stoppard. In the film, Keira Knightley (her third performance under Wright's direction) plays Anna, a Russian aristocrat caught between her love for her husband (Jude Law) and her passion for Count Vronsky, a young cavalry officer played by Aaron Johnson. Supporting players include Matthew Macfadyen as Anna's womanizing brother Oblonsky, Kelly Macdonald as his wife Dolly, and Olivia Williams as Vronsky's mother.
Go to the official website for a look at this new take on a classic love story.
Eddie Murphy: One Night Only

New TV special premieres Wednesday at 10p on Spike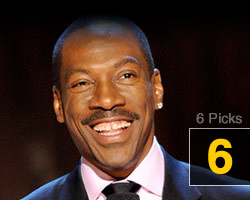 Long before Norbit and Pluto Nash, former Saturday Night Live star Eddie Murphy was considered one of the funniest people on the planet, thanks to classic stand-up films like Raw and well regarded film comedies like 48 Hrs. and Beverly Hills Cop. The new Spike TV special One Night Only celebrates Murphy's legacy, with comedians and actors including Chris Rock, Adam Sandler, Tracy Morgan, Russell Brand, Tyler Perry, Arsenio Hall, Martin Lawrence, Samuel L. Jackson, Jamie Foxx, and more stopping by to tell stories about the comedian. The special, which chronicles Murphy's rise from teenage comic to box office superstar, will also feature music from The Roots and Stevie Wonder.
Get delirious at the official show site.
Closing the book on last week
Most Popular Title on Metacritic
Halo 4 (360)

87

Week of 11/4-11/10
Weekend Box Office Champion (Estimated, U.S. only; source: Boxofficemojo.com)
Skyfall

81

$87.8 million; 1st week at #1
#1 Album on Billboard 200 (Source: Billboard.com/Nielsen SoundScan)
Taylor Swift: Red

76

2nd week at #1
Top-Rated Primetime Broadcast Show (Source: Nielsen)
Sunday Night Football (NBC)
21.8 million viewers; week of 10/29-11/4