A tale of two Spideys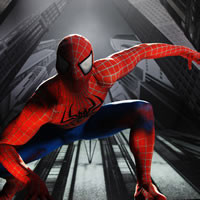 With an estimated production budget of $65-$75 million, the rock musical Spider-Man Turn Off the Dark is Broadway's most expensive show of all time ... and certainly one of its most troubled. As originally constructed by Julie Taymor (best known for her successful theatrical adaptation of The Lion King) and Glen Berger, the effects-filled production was plagued by technical problems (which, more than once, sent cast members to the infirmary), and the opening night was delayed so frequently that Spider-Man became a national punch line. Many theater critics reached a point where they were uncertain that the show would ever open, and -- going against convention -- reviewed one of the preview performances in February, almost universally panning the incoherent story and the unmemorable music (written by U2's Bono and The Edge).
A record 183 preview performances -- and a three-week hiatus -- later, Spider-Man finally, officially, opened yesterday at the Foxwoods Theatre after a re-tooling by new writer Roberto Aguirre-Sacasa and new director Philip William McKinley. A new song was added, 20 minutes have been lopped off the running time, and the musical's plot has been significantly restructured.
Do critics like the upgraded production any better than the original version? The short answer is yes, though most reviewers still don't recommend the show. Below, we sample the before and after reviews from critics who wrote about both versions.
Before and after reviews for Spider-Man Turn Off the Dark (Foxwoods Theatre)
Critics who prefer the original version
Original Version
 
New Version
Scott Brown, New York

THEN: "It's by turns hyperstimulated, vivid, lurid, overeducated, underbaked, terrifying, confusing, distracted, ridiculously slick, shockingly clumsy, unmistakably monomaniacal and clinically bipolar. But never, ever boring. ... Even in the depths of Spider-man's certifiably insane second act, I was riveted."

2/7/11 MOSTLY POSITIVE Full Review

 

NOW: "The thrill is gone. So is the insanity and the walleyed, aneurysm-in-progress fun of it all. I'm sorry to report that the eight-legged, nine-lived megalomusical ... has deteriorated from mindblowingly misbegotten carnival-of-the-damned to merely embarrassing dud. ... Spider-Man was a bad Julie Taymor musical; it is now, wholeheartedly, a terrible U2 musical."

6/14/11 NEGATIVE Full Review


Jeremy Gerard, Bloomberg News

THEN: "A protofeminist stew that foolishly decants the myth of the weaver Arachne into a story that's incoherent to begin with. After all this expenditure of talent and money, "Spider- Man" is probably unfixable because too much has gone into making humans fly, which is not what they are good at."

2/7/11 MIXED (2/4) Full Review

 

NOW: "[The] new director, Philip William McKinley, has done little to improve the muddled mythmaking of Julie Taymor. ... The songs still stop the show in its tracks because they're pop songs, not theater songs that get inside the characters while advancing the plot."

6/14/11 NEGATIVE (1.5/4) Full Review


Elysa Gardner, USA Today

THEN: "Beyond the offstage drama and lavish budget, and all the feats and flash accompanying them, lies an endearingly old-fashioned musical."

2/8/11 POSITIVE Full Review

 

NOW: "The new Spider-Man is cuter and more cautious than its predecessor, more in line with the winking musical adaptations of famous films and brands that have lined the theater district in recent years."

6/14/11 POSITIVE Full Review

Critics who prefer the new version
Original Version
 
New Version
David Cote, Time Out New York

THEN: "One of the saddest things about Spider-Man, in fact, is how dehumanized and humorless the whole affair feels. ... The production is a deeply confused, ugly, ultimately boring example of artistic hubris enabled by financial excess."

2/11/11 NEGATIVE (1/5) Full Review

 

NOW: "It's a hell of a lot better. Spider-Man: Turn Off the Dark is now a coherent and mostly enjoyable entertainment for children and adults, albeit one still saddled with Taymor's vestigial nuttiness and freshly dug plot holes all its own."

6/14/11 MIXED (3/5) Full Review


Joe Dziemianowicz, NY Daily News

THEN: "A big production going in too many directions and in need of a lot of work to make it entertaining, satisfying and understandable. ... The show reportedly cost $65 million and that's clearly gone into mechanics, hydraulics and aerial rigging. It seems only 10 cents has gone into the confusing story and humorless dialogue."

2/7/11 NEGATIVE Full Review

 

NOW: "Spidey 2.0 is more cohesive, streamlined and funnier than before, and its thrills are still intact - though it is still weighed down by so-so songs. ... The reason to see 'Turn Off the Dark' remains. The acrobatic aerial stunts and flying, particularly the 11 o'clock showdown, are dazzling. "

6/14/11 POSITIVE (3/5) Full Review


Robert Feldberg, Bergen Record

THEN: "Lifeless and incoherent. ... Overall, the show, with its tepid action scenes, entirely flubs what should be the core good-guy, bad-guy melodrama."

3/13/11 NEGATIVE Full Review

 

NOW: "The new version of the show has been streamlined and simplified — you can now follow what's going on — into an adventure story, with an accompaniment of wisecracks. ... It all adds up to the theatrical equivalent of a meal of cotton candy."

6/15/11 NEGATIVE Full Review


Chris Jones, Chicago Tribune

THEN: "The much-told woes of 'Spider-Man Turn Off the Dark' boil down to a problem that has similarly ensnared far humbler new musicals: an incoherent story."

2/7/11 NEGATIVE Full Review

 

NOW: "Given the limited amount of fix-'er-up time, and the depths of incoherence from which this show had to rise, 2.0 is a remarkable achievement for those who have toiled for coherence and a measure of absolution in this dangerously tangled web."

6/14/11 MIXED Full Review


Jonathan Mandell, The Faster Times

THEN: "Spider-Man Turn Off The Dark works best as a slide show."

4/3/11 NEGATIVE Full Review

 

NOW: "There is no question that the musical ... is improved, vastly so. ... But, while Spider-Man is no longer a catastrophe, neither did I find it the thrill that the hype would have you believe."

6/13/11 NEGATIVE Full Review


Peter Marks, Washington Post

THEN: "Story-wise, 'Spider-Man' is a shrill, insipid mess, a musical aimed squarely at a Cub Scout demographic. Looking at the sad results, you're compelled to wonder: Where did all those tens of millions go?"

2/7/11 NEGATIVE Full Review

 

NOW: "What swings from the rafters, springs from the wings and bursts from the stage floor of the Foxwoods Theatre is a definite upgrade from the flailing behemoth on view in February ... You can't go so far as to declare that 'Spider-Man' has found its voice, but at least now you can understand what it's saying."

6/14/11 NEGATIVE Full Review


David Rooney, The Hollywood Reporter

THEN: "An ungainly mess of a show that smacks of out-of-control auteurial arrogance ... Spider-Man is chaotic, dull and a little silly. And there's nothing here half as catchy as the 1967 ABC cartoon theme tune."

2/7/11 NEGATIVE Full Review

 

NOW: "In terms of narrative clarity and character definition, the show is sharper. But while the emergency surgical team has injected fanboy humor and self-conscious acknowledgments of the production's rocky gestation, they have not located a heart in this bloated monster."

6/14/11 NEGATIVE Full Review


Howard Shapiro, Philadelphia Inquirer

THEN: "I wasn't looking for great musical theater from Spider-Man. I wanted a live comic book. I'm not saying you should lower your standards at a show like this one, just that the standards are different. And that is why Spider-Man, in its current preview state, fails. Theatrically, when the ropes all work, it grabs you. As a live comic book, it does not."

2/13/11 NEGATIVE Full Review

 

NOW: "The new Spider-Man is all for fun, a live-on-stage comic book, pure and simple - precisely what the last version wasn't, and what its team, on hiatus for several weeks of rewrites and rehearsals, reimagined. It will by no means assume a spot in the pantheon of great Broadway musicals, but it's now far more than a tortured curiosity. It has humor, and winks gamely at itself. It has flight sequences that make sense, are not repetitively tiresome, and, most of all, work technically."

6/15/11 POSITIVE Full Review


David Sheward, Backstage

THEN: "The story supporting these imaginative images is flimsier than a strand of filament. Taymor and her book collaborator, Glen Berger, have taken threads from the comic book and all three of the 'Spider-Man' movies, spun a few of their own, and weaved them into an incomprehensible web that feels more like a sticky trap than a fun playhouse."

2/8/11 NEGATIVE Full Review

 

NOW: "What an improvement. The tangled plot threads that made the new musical 'Spider-Man: Turn Off the Dark' a sticky mess during its record-breaking preview period have been unraveled and woven into an exciting web of wonder."

6/14/11 POSITIVE Full Review


Charles Spencer, The Telegraph [UK]

THEN: "Never mind turning off the dark. I spent much of this dreadful new musical muttering Please, Lord, make it stop. ... There's a leaden lack of humour about most of the script, and though the flying sequences are exciting when they work (and even more fun when they don't) there is nothing here to match the thrills, skills and sheer imagination of Cirque du Soleil at its best. But perhaps the biggest bummer of all is the score"

2/6/11 NEGATIVE Full Review

 

NOW: "Though now slicker and more comprehensible than it was in February ... this remains a stubbornly unlovable show that never comes close to matching the thrills, the humour or the emotional depth of the Spider-Man movies. ... Despite the undoubted improvements, the show never soars into greatness, or leaves the audience in a state of disbelieving wonder. Indeed, despite all the time and money that have been lavished on it, Spidey actually turns out to be a bit of a bore."

6/15/11 NEGATIVE Full Review


Steven Suskin, Variety

THEN: "Weaknesses lie with the book, music and lyrics ... [The] story ... is sketchy and ill-formed. Some of the dialogue, by Taymor and Glen Berger, seems ad-libbed on the spot and there are a couple of big holes in the story."

2/7/11 NEGATIVE Full Review

 

NOW: "The finished version is reasonably improved but somewhat less spectacular. ... Several much-discussed flaws -- the 'Geek Chorus' framing device, extensive stage-time for the Taymor-created spider-woman Arachne, a jaw-droppingly misguided musical number about shoes -- are gone, certainly for the better. But they tended to give distinct flavor to the show, and flavor is what 'Spider-Man' now lacks. "

6/15/11 MIXED Full Review


Matt Windman, Theater News Online/AM New York

THEN: "Spider-Man, as it now stands, is truly awful, misguided and boring. So bad, in fact, that I wish its producers would just put the damn thing out of its misery and close it."

3/13/11 NEGATIVE Full Review

 

NOW: "Spider-Man 2.0 is no longer an embarrassing train wreck, painful bore, utter laughingstock or source of serious physical injuries. But at the same time, it remains little more than a kid-friendly stunt spectacular with glitzy superhero costumes, bad songs and a few cheesy laughs. It's just an oversized, overpriced, longer version of what you'd find at a theme park."

6/14/11 MIXED Full Review


Linda Winer, Newsday

THEN: "[A] bloated, muddled, often beautiful mess. ... Taymor remains better at spinning a web than a coherent tale."

2/7/11 NEGATIVE Full Review

 

NOW: "The pretentiousness is gone. But so is any grand -- perhaps, loony -- ambition that first inflamed director Taymor and composers Bono and The Edge with promises of a breakthrough union of art, Broadway and genuine rock and roll. With Taymor and her team out (but duly credited), new book writer Roberto Aguirre-Sacasa, choreographer Chase Brock and "creative consultant" Philip Wm. McKinley have made a dumbed-down spectacle that sets the bar low and reaches it. "

6/14/11 MIXED Full Review

Critics who don't prefer one version to the other
Original Version
 
New Version
Ben Brantley, The New York Times

THEN: "The sheer ineptitude of this show, inspired by the Spider-Man comic books, loses its shock value early. ... Spider-Man is not only the most expensive musical ever to hit Broadway; it may also rank among the worst."

2/7/11 NEGATIVE Full Review

 

NOW: "So is this ascent from jaw-dropping badness to mere mediocrity a step upward? Well, until last weekend, when I caught a performance of this show's latest incarnation, I would have recommended 'Spider-Man' only to carrion-feasting theater vultures. Now, if I knew a less-than-precocious child of 10 or so, and had several hundred dollars to throw away, I would consider taking him or her to the new and improved Spider-Man."

6/14/11 NEGATIVE Full Review


Elisabeth Vincentelli, New York Post

THEN: "An inconsistent, maddening show that's equal parts exciting and atrocious. ... The first act holds it together because it follows the Marvel mythos, but when Taymor's id takes over after intermission, the story goes out the window."

2/7/11 MIXED (2.5/4) Full Review

 

NOW: "The plot now includes more back story, and follows a straight line from point A to point B. At least we can tell what's going on. ... But the overall effect is more competent than awe-inspiring, more Six Flags than magic. How weird that this is an extravaganza without a single genuine showstopper."

6/14/11 MIXED (2.5/4) Full Review