Renewal and cancellation predictions from industry followers
As is our custom each year at this time, we have rounded up the latest renewal predictions from a variety of TV experts. While the networks won't officially announce their 2014-15 schedules (and, with them, the identities of this season's survivors) until mid-May, it's not too early to speculate about the fates of those bubble shows currently in limbo. To identify possible winners and losers, we have turned to six sources (all published within the past few weeks):
You can find these experts' predictions in the tables below, organized by network. Unscripted (reality and news) shows are excluded, since most experts did not predict the fates of such programs.
ABC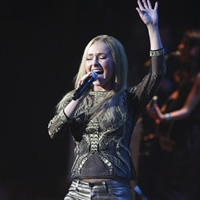 ABC has already canceled more shows (five) than any other network, and has yet to renew any of its current shows. The network also has several key series (including Resurrection, Mind Games, and Mixology) that have yet to debut. Those factors, coupled with dismal ratings—ABC is in fourth place this season in both total viewers and in the key 18-49 demographic—mean that there are few certainties heading into next season.
That doesn't mean there aren't any sure things, however. Castle, Grey's Anatomy, The Middle, Modern Family, Once Upon a Time, Scandal, and most likely Revenge all appear headed to easy renewals. And newcomer Once Upon a Time in Wonderland is also a lock—for cancellation. But everything else is in play, including the bulk of ABC's first-year programs, plus holdovers like Last Man Standing and The Neighbors. Of the bubble shows, The Goldbergs and Marvel's Agents of SHIELD appear to have the best chances at another season, though even the highly promoted latter show isn't a lock at this point. The future is less bright for fan favorites Nashville and Suburgatory, though TV By The Numbers' Bill Gorman, who offers the most data-driven predictions out of the experts cited here, thinks that the latter has a good chance at renewal. Vulture's Josef Adalian also thinks that Nashville's chances are helped by ABC head Paul Lee's recent positive comments about the program.
ABC Primetime Programs, 2013-14 Season
Show
Expert Predictions
BW
EW
RCI
Spoiler
TVLine
Vulture
The Assets

CANCELED

Back in the Game

CANCELED

Betrayal

CANCELED

(unofficial)
Castle
The Goldbergs
Grey's Anatomy
Killer Women

CANCELED

(unofficial)
Last Man Standing
Lucky 7

CANCELED

Marvel's Agents of S.H.I.E.L.D.
The Middle
Modern Family
Nashville
The Neighbors
Once Upon a Time
Once Upon a Time in Wonderland
Revenge
Scandal
Suburgatory
Super Fun Night
Trophy Wife
Not yet premiered:
Astronauts Wives Club (summer), The Black Box (4/24), Grand Central (summer), Mind Games (2/25), Mistresses (summer), Mixology (2/26), Motive (summer), Resurrection (3/9), Rookie Blue (summer)
CBS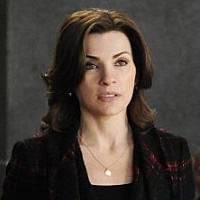 As the perennial leader among networks in total viewership, CBS typically makes fewer changes to its schedule than its competitors. Thus, even though the network has yet to renew any of its primetime programs, most of its shows are considered safe, even at this early stage.
Of course, some programs will have to go to enable the network to debut new series next season. The CBS programs most in danger of cancellation at this point are DOA first-year dramas Hostages and Intelligence, and, somewhat surprisingly, long-running procedural The Mentalist, an expensive, non-CBS-produced show that could be cleared to make room for a cheaper new drama next season. Critic favorite The Good Wife may suffer a similar fate, though experts note that, as a CBS-owned show, its survival odds are slightly higher. (The Emmy nominations also don't hurt its renewal chances, given that few other CBS shows get recognized.) Interestingly, it is another long-running series—Two and a Half Men—that is the most likely to be canceled among CBS's current comedies. But with two of this season's comedies (We Are Men and How I Met Your Mother) not returning in 2014-15, CBS doesn't necessarily need to eliminate another half-hour program.
CBS Primetime Programs, 2013-14 Season
Show
Expert Predictions
BW
EW
RCI
Spoiler
TVLine
Vulture
2 Broke Girls
The Big Bang Theory
Blue Bloods
The Crazy Ones
Criminal Minds
CSI: Crime Scene Investigation
Elementary
The Good Wife
Hawaii Five-0
Hostages
How I Met Your Mother

ENDING AFTER THIS SEASON

Intelligence
The Mentalist
Mike & Molly
The Millers
Mom
NCIS
NCIS: Los Angeles
Person of Interest
Two and a Half Men
We Are Men

CANCELED

Not yet premiered:
Bad Teacher (tbd), Extant (summer), Friends With Better Lives (3/31), Reckless (tbd), Under the Dome (6/30), Unforgettable (summer)
The CW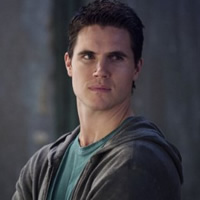 Of The CW's current lineup of hour-long series, four shows appear to be locks to return next season: Arrow, Supernatural, The Vampire Diaries, and newcomer The Originals. All are among the network's top-rated programs, while Supernatural just received this rather unusual endorsement from network head Mark Pedowitz: "They can go as long as they want."
Second-year dramas Beauty and the Beast (which is being pulled from the schedule for a few months) and The Carrie Diaries, however, will likely not be going on past this season, while first-year sci-fi series The Tomorrow People also appears to be in danger. If all three of those series are canceled as expected, bubble shows Hart of Dixie and Reign may see their survival chances improve. Their fates, however, also depend on the success of the two newcomers that have yet to premiere: Star-Crossed and The 100. If those two shows bomb, and Reign falters in its final months, The Tomorrow People could also be back in play for a second season.
CW Primetime Programs, 2013-14 Season
Show
Expert Predictions
BW
EW
RCI
Spoiler
TVLine
Vulture
Arrow
Beauty and the Beast
The Carrie Diaries
Hart of Dixie
Nikita

CANCELED

The Originals
Reign
Supernatural
The Tomorrow People
The Vampire Diaries
Not yet premiered:
The 100 (3/19), Star-Crossed (2/17)
Fox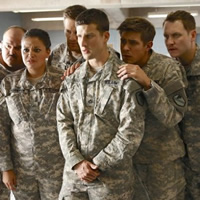 Fox is the only network to announce multiple early renewals, with five current programs guaranteed of returning next season. Among the remaining shows, Family Guy and New Girl are virtual locks for another season, while first-year sitcom Brooklyn Nine-Nine is suddenly sitting pretty after a surprise Golden Globe victory and growing support from critics (though a post-Super Bowl ratings bump never materialized, and lower-than-expected recent ratings mean that the show isn't quite a lock for renewal yet).
Many critics also enjoy Fox's new military comedy Enlisted, but that acclaim seems unlikely to offset dismal ratings, and that show is one of several that appear headed straight to cancellation. The new Greg Kinnear drama Rake and long-running (but now nearly forgotten) comedy Raising Hope are the other programs most in danger, while J.J. Abrams' Almost Human and second-year comedy The Mindy Project also appear to be in some danger. Surprisingly, despite disastrous reviews and so-so (though not terrible) numbers, Fox has hinted that Dads isn't necessarily dead, though most experts still don't see that show returning. Yet-to-premiere comedies Us & Them and Surviving Jack also seem likely to be one-and-done; the latter had its episode order cut, while production on the former was halted mid-season (and the show still does not have a premiere date).
Fox Primetime Programs, 2013-14 Season
Show
Expert Predictions
BW
EW
RCI
Spoiler
TVLine
Vulture
Almost Human
American Dad

CANCELED

Moving to TBS next season
Bob's Burgers

RENEWED

Bones

RENEWED

Brooklyn Nine-Nine
Dads
Enlisted
Family Guy
The Following
Glee

RENEWED

for one final season
The Mindy Project
New Girl
Raising Hope
Rake
The Simpsons

RENEWED

for 2 additional seasons
Sleepy Hollow

RENEWED

Us & Them

CANCELED

prior to debut; 7 filmed episodes may still air
Not yet premiered:
24 (5/5), Gang Related (5/20), Surviving Jack (3/27), Wayward Pines (summer)
NBC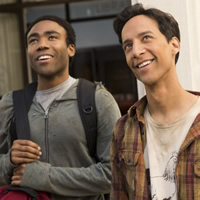 Predicting NBC's decisions is nearly impossible at this early stage, since the network has decided to hold back the debuts of many of its new shows until after the conclusion of the Winter Olympics later this month. But, of the shows that have already aired, only Dracula (almost certainly gone), Revolution, Parenthood, and—of course—Community appear to be in danger of cancellation.
Community's fate, however, was helped by NBC's recent cancellations of fellow Thursday night comedies Sean Saves the World and The Michael J. Fox Show. Presumably, the network will want at least one more current sitcom to return alongside Parks and Recreation (whose renewal is certain, though not yet official), especially, as critic Alan Sepinwall points out, since NBC's Thursday night lineup is going to get buried in the fall against CBS's new Thursday Night Football (so why burn a new show there?). Of course, that other returning show could wind up being newcomer About a Boy rather than Community if it does well following the Olympics. (Technically, it could also be Growing Up Fisher, though that seems unlikely.) Similarly, in the hour-long category, both Parenthood and Revolution will see their renewal chances improve if newcomers like Crisis and Believe bomb next month.
NBC Primetime Programs, 2013-14 Season
Show
Expert Predictions
BW
EW
RCI
Spoiler
TVLine
Vulture
The Blacklist

RENEWED

Chicago Fire
Chicago PD
Community
Dracula
Grimm
Ironside

CANCELED

Law & Order: SVU
The Michael J. Fox Show

CANCELED

(unofficial)
Parenthood
Parks and Recreation
Revolution
Sean Saves the World

CANCELED

Welcome to the Family

CANCELED

Not yet premiered:
About a Boy (2/22), Believe (3/10), Crisis (3/16), Crossbones (tbd), Growing Up Fisher (2/23), Hannibal (2/28), The Night Shift (tbd), Undateable (tbd)
What do you think?
What bubble shows would you like to see return, and which deserve to be canceled? Let us know in the comments section below. And be sure to check our 2013-14 Renew/Cancel Scorecard for daily updates on the above shows (and the current status of dozens of cable programs as well).