Our comprehensive coverage of the TV network upfront presentations this week in New York continues with a look at CBS's plans for the 2012-13 season. We'll conclude our coverage tomorrow with the unveiling of The CW's schedule. View all previous upfronts coverage here
In a nutshell
On Wednesday, CBS became the fourth major network to announce its plans for the upcoming season, and, as expected, the ratings leader did not feel the need to make many changes. Some highlights:
The network is returning 19 series from the current season—more than any other network—though four of them are moving to new timeslots. Two and a Half Men shifts to Thursdays at 8:30p, where it will team with The Big Bang Theory for what should be a high-rated comedy block; 2 Broke Girls takes over the Monday 9p slot, and The Mentalist moves to Sundays, where it will follow The Good Wife at 10p.
There will be one fewer CSI hour next season; CSI: Miami has been canceled, though CSI: New York—the fourth CBS show in a new timeslot, moving to Fridays at 8p—will continue (along with the flagship, which was not in any danger of ending).
Other canceled shows that won't be returning next season include A Gifted Man, NYC 22, Rob, and Unforgettable. These recent announcements join the previously terminated How to Be a Gentleman, though the latter show will return this summer to unload its remaining episodes that didn't previously air.
Is Rules of Engagement the show that just won't die? The perennial bubble show isn't yet listed on the network's 2012-13 lineup, but CBS head Nina Tassler informed the press that it has not been canceled, and that the network is still deciding on the sitcom's fate.
CBS has picked up just seven new programs for next season (detailed below). Four of them will launch in the fall, including the modern-day Sherlock Holmes tale Elementary and the Dennis Quaid / Michael Chiklis drama Vegas, which both sound (on paper, at least) like stronger entries than last season's rather forgettable crop of new dramas.
Pilots rejected by CBS include a sitcom that was to star Martin Lawrence and additional comedy projects from Conan O'Brien and Louis C.K.
Below, we take a closer look at CBS's projected schedule, followed by descriptions for each of the network's new programs.
CBS's primetime schedule
New programs are indicated in bold in the schedule below. All times are ET/PT unless otherwise indicated.
CBS Fall 2012 Schedule
 
7:00
7:30
8:00
8:30
9:00
9:30
10:00
10:30
SUN
60 Minutes
The Amazing Race
The Good Wife
The Mentalist
MON
 
How I Met Your Mother
Partners
2 Broke Girls
Mike & Molly
Hawaii Five-0
TUE
 
NCIS
NCIS: Los Angeles
Vegas
WED
 
Survivor
Criminal Minds
CSI: Crime Scene Investigation
THU
 
The Big Bang Theory
Two and a Half Men
Person of Interest
Elementary
FRI
 
CSI: NY
Made in Jersey
Blue Bloods
SAT
 
[Reruns]
[Reruns]
48 Hours Mystery
CBS's new programs
First-year series on CBS's schedule during the 2012-13 season include: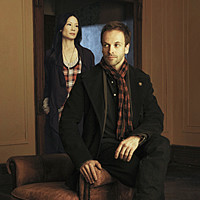 Elementary
Jonny Lee Miller will attempt to do what his recent London stage co-star Benedict Cumberbatch has already done to great acclaim for the BBC and PBS: portray famed detective Sherlock Holmes in a modern-day retelling of Arthur Conan Doyle's stories. Lucy Liu plays Watson to Miller's Holmes, who works for the NYPD after moving on from a consulting gig for Scotland Yard (and a stint in rehab). Aidan Quinn also stars, and the drama (airing Thursdays at 10p, where it could easily win its timeslot) comes from creator Rob Doherty (Medium), producer/director Michael Cuesta (Homeland, Dexter), and Justified producers Sarah Timberman and Carl Beverly.
Friend Me
This midseason comedy stars Christopher Mintz-Plasse (you know him better as McLovin) and Nicholas Braun (10 Things I Hate About You) as two 20-something friends from the Midwest who move to L.A. to take new jobs. While one is happy to chat with his old Indiana buddies on the computer, the other is desperate for new friends, and posts an ad on a coffee house bulletin board. Sounds like a perfect pairing with Big Bang Theory.
Golden Boy
Created by Nick Wootton (NYPD Blue, Chuck), and produced by Greg Berlanti (Brothers & Sisters), Golden Boy traces the rise of an ambitious cop who goes on to become the youngest police commissioner in NYPD history. Though that role was originally targeted for Ryan Phillippe, it will now be played by the lesser-known Theo James (Underworld Awakening); he'll be joined by Chi McBride (Human Target), Kevin Alejandro (True Blood), Holt McCallany (Lights Out), and Bonnie Somerville (NYPD Blue). The series will debut at midseason
The Job
Have you ever wanted to watch someone's job interview? A new reality show produced by Mark Burnett (Survivor), midseason series The Job will allow you to do just that, offering contestants a chance to win their dream jobs if they can get through "several rounds of the most intense interviews of their lives." Along the way, they will be tempted by lesser job offers from rival companies. (Because nothing says "reality" like watching ordinary Americans receive multiple job offers in the current economic climate.)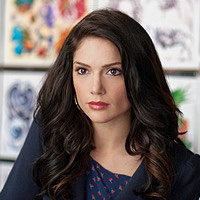 Made in Jersey
Having already found critical success with The Good Wife, CBS will seek to duplicate that feat with another show centered on a female attorney. The young lawyer at the center of Made in Jersey (airing Fridays at 9p), however, comes from a working-class Italian-American family in New Jersey, and she is forced to use her "street smarts" to compete among her Ivy League-trained colleagues in Manhattan. Janet Montgomery (Entourage, Human Target, and neither Italian nor American) stars alongside Kyle MacLachlan (Twin Peaks, Desperate Housewives).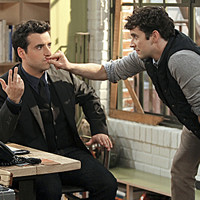 Partners
CBS bumped Two and a Half Men out of its highly rated Monday night comedy lineup to make room for this newcomer, which will follow HIMYM at 8:30p. Series creators David Kohan and Max Mutchnick (who created Will & Grace, among other series) based Partners on their own personal history working together; the show centers on lifelong friends and business partners whose relationship is tested when one is engaged to be married. David Krumholtz (Numb3rs) and Michael Urie (Ugly Betty) star, and the cast also features Molly Shannon (SNL), Sophia Bush (One Tree Hill), and Brandon Routh (Superman Returns).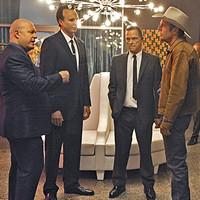 Vegas
This 1960s-era drama (airing Tuesdays at 10p) is based on the true story of rodeo cowboy-turned-Las Vegas sheriff Ralph Lamb, who will be played by Dennis Quaid in his series TV debut. Michael Chiklis co-stars as a mobster who clashes with the lawman, while the cast also includes Carrie-Anne Moss (The Matrix) and Jason O'Mara (Terra Nova). There's some major talent behind the cameras as well; Vegas was created by screenwriter Nicholas Pileggi (Goodfellas, Casino) and Greg Walker (Without a Trace), and the pilot was directed by James Mangold (3:10 to Yuma).