Updated 12:35pm: Added a 17th new show, Crossbones.
Updated 10:12am: 30 Rock final season confirmed; new trailer links added for several shows.
Our comprehensive coverage of the TV network upfront presentations this week in New York kicks off with a look at NBC's plans for the 2012-13 season. We'll have additional reports for the other networks each day this week.
In a nutshell
Will 2012-13 be the season that struggling NBC finally turns things around and emerges from the ratings cellar? Based on the primetime schedule the network announced on Sunday, we're fairly certain the answer to that question is "no," thanks to what seems on paper like an unimpressive crop of new programs and some odd scheduling decisions. Some highlights:
Returning shows include Grimm, Law & Order: SVU, The Office, Parenthood, Parks and Recreation, Whitney, and Smash; the latter will not return until midseason, and will have a new showrunner (Gossip Girl's Josh Safran).
Though it looked at one point like The Office would lose several key cast members, nearly everyone should return next season except stars James Spader (who has departed) and Mindy Kaling (who is starring in her own show on Fox) and showrunner Paul Lieberstein. A planned spinoff for Rainn Wilson's Dwight Schrute character is still in development and not yet confirmed for 2012-13.
Community and 30 Rock are also returning, but both will have shortened seasons of just 13 episodes, and Community has been banished to Friday nights, all but guaranteeing that the upcoming season will be its last. (That show may also lose creator/showrunner Dan Harmon, whose return is currently being negotiated.) Despite previous indications that 30 Rock would also be concluding after the upcoming season, NBC head Robert Greenblatt indicated that nothing is set in stone. During Monday morning's presentation to the media, NBC head Robert Greenblatt officially confirmed that 30 Rock's upcoming season would be its last.
NBC's most puzzling pickup, however, is the newsmagazine Rock Center with Brian Williams, which recently generated headlines for being pulled from NBC's schedule for the May sweeps period due to its miniscule ratings. The network not only renewed the show, but placed it in the once prestigious 10pm Thursday slot.
The network has also decided to double down on singing competition The Voice, airing it for the first time in the fall in addition to midseason despite a recent decline in ratings. Expect some unspecified tweaks to the show's format.
The network has canceled Are You There Chelsea, Awake, Bent, Best Friends Forever, Fear Factor, The Firm, Harry's Law, The Marriage Ref, Minute to Win It, The Sing-Off, and Who Do You Think You Are. These recent cancellations join the previously axed Prime Suspect, Free Agents, and Playboy Club. Chuck also will not be returning, having concluded its five-season run.
NBC will be banking heavily on comedies in the upcoming season, airing sitcoms four nights a week (including new comedy blocks on Tuesdays and Fridays).
New shows (which are described in detail below) include Matthew Perry's return to NBC in the comedy Go On, a Ryan Murphy-produced sitcom (The New Normal), and the latest serialized sci-fi tale from J.J. Abrams (Revolution). Many of the network's new programs (10 out of 16, to be exact), including the Silence of the Lambs prequel Hannibal and the White House-set comedy 1600 Penn, will not appear until midseason. Those that do start in the fall may premiere slightly earlier than normal, however, to piggyback on the network's coverage of the Summer Olympics.
Among the pilots conspicuously absent from NBC's announced schedule (and thus, presumably, dead) were Downwardly Mobile (which would have reunited Roseanne Barr and John Goodman), and a remake of the British sitcom Friday Night Dinner that had good buzz (as well as the involvement of Office/Parks and Rec producer Greg Daniels). Meanwhile, thanks to some casting problems, Munsters reboot Mockingbird Lane will not shoot its pilot until next month, so a decision on whether or not to pick up that show is still forthcoming, though the show is still under consideration for the 2012-13 season.
Below, we take a closer look at NBC's projected schedule, followed by descriptions for each of the network's new programs.
NBC's primetime schedule
New programs are indicated in bold in the schedule below. All times are ET/PT unless otherwise indicated.
NBC Fall 2012 Schedule
 
7:00
7:30
8:00
8:30
9:00
9:30
10:00
10:30
SUN
Football Night in America*
Sunday Night Football * (8:15)
MON
 
The Voice
Revolution
TUE
 
The Voice (results)
Go On
The New Normal
Parenthood
WED
 
Animal Practice
Guys with Kids
Law & Order: SVU
Chicago Fire
THU
 
30 Rock
Up All Night
The Office
Parks & Recreation
Rock Center with Brian Williams
FRI
 
Whitney
Community
Grimm
Dateline
SAT
 
[Reruns]
[Reruns]
[Reruns]
NBC Winter 2013 Schedule [Partial]
 
7:00
7:30
8:00
8:30
9:00
9:30
10:00
10:30
SUN
Dateline
Fashion Star
The Celebrity Apprentice
Do No Harm
NBC's new programs
The 17 first-year series announced for NBC's 2012-13 season are: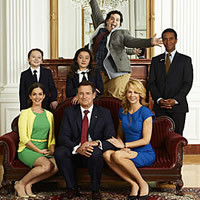 1600 Penn Watch clips and interviews
It's just your ordinary dysfunctional family comedy, but set in the White House. Bill Pullman stars as the president (as he did in the film Independence Day), while Jenna Elfman is the first lady and stepmother to his kids, who include The Book of Mormon's Josh Gad. The series (arriving at midseason) was created by Gad with former Obama speechwriter Jon Lovett, while Modern Family producer and director Jason Winer takes on those duties here. Note that Brittany Snow, who was once part of the pilot's cast, has been replaced.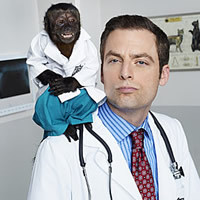 Animal Practice Full trailer More clips and interviews
Sort of a more comedic House set in a veterinary clinic instead of a hospital, this new comedy (Wednesdays, 8p) stars Justin Kirk (Weeds) as a surly New York vet who gets along better with his animal patients than with his fellow humans. Tyler Labine (Reaper) is one of his colleagues, while the key role of Kirk's new boss and former love interest has yet to be cast. Joe & Anthony Russo (Community, Arrested Development) are on board as producers and directors.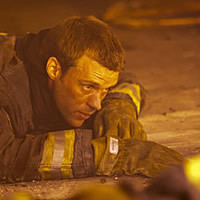 Chicago Fire Full trailer More clips and interviews
The latest procedural from Dick Wolf (Law & Order) centers on the men and women of Chicago's fire department, which you probably figured out within half a second of reading the title. Jesse Spencer moves on from saving lives in a hospital (on House) to saving lives in burning buildings; he's joined in the ensemble cast by Eamonn Walker (Oz), David Eigenberg (Sex and the City), and Monica Raymund (Lie to Me), while series creators Derek Haas and Michael Brandt (co-writers of 3:10 to Yuma) are among the producers. The series debuts this fall on Wednesdays at 10p.
Crossbones
A late addition to NBC's 2012-13 lineup (it was announced Monday morning after being ordered straight to series without a pilot), this midseason drama is an adaptation of Colin Woodard's book The Republic of Pirates, about the legendary 18th century pirate Blackbeard. Casting is not set, but the show comes from Luther creator Neil Cross, and 10 episodes have been ordered.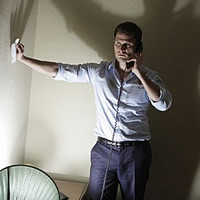 Do No Harm Watch clips and interviews
That title suggests medical drama, and Do No Harm (Sundays at 10p starting in midseason) is indeed that, but with a major Jekyll & Hyde twist. Rescue Me's Steven Pasquale stars as talented and successful neurosurgeon Dr. Jason Cole who has an alternate personality (helpfully named Ian) who emerges every night to wreak havoc on Jason's personal and professional lives after being suppressed for years with an experimental drug. The cast also includes former Cosby Show star Phylicia Rashad, and David Schulner (Desperate Housewives, The Event) is the creator.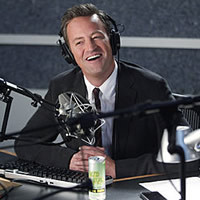 Go On Full trailer More clips and interviews
Matthew Perry's post-Friends television career already includes one failed sitcom (Mr. Sunshine for ABC) as well as a failed drama (Studio 60 on the Sunset Strip for NBC), but perhaps the third time's the charm. His first NBC comedy since his star-making run on Friends finds Perry playing a cocky radio sportscaster who enters group therapy after his wife is killed in a car accident. (It actually looks much funnier than that sounds.) Oddly one of two upcoming NBC shows about radio hosts, Go On (leading off a new Tuesday night comedy block at 9p) reunites Perry with Friends writer Scott Silveri, while Todd Holland also produces and directs.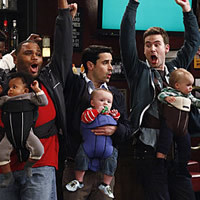 Guys with Kids Full trailer More clips and interviews
This Jimmy Fallon-produced comedy from The Office/SNL writer Charlie Grandy centers on a group of immature 30-something men who are new fathers. Guys with Kids (Wednesdays, 8:30p) stars Zach Cregger (Friends with Benefits), Jesse Bradford (The West Wing), and Anthony Anderson (Law & Order) as the dads, with support from Jamie Lynn Sigler (The Sopranos) and Tempestt Bledsoe (The Cosby Show). If it sounds bad to you, remember it could have been worse; the original working title was DILFs.
Hannibal
NBC has high hopes for this midseason drama, which follows the early "career" of Dr. Hannibal Lecter, the psychiatrist-turned-serial killer from Thomas Harris' novels and films like Silence of the Lambs. The series comes from Pushing Daisies creator Bryan Fuller, who is using a five-page description of Lecter's back story from the novel Red Dragon as the basis for at least the first few seasons (though NBC has only committed to the first season—of 13 episodes—so far). Hugh Dancy stars as an FBI profiler who consults with the yet-to-be-cast Lecter on his toughest cases but doesn't know that Lecter himself is a criminal.
Howie Mandel's White Elephant
Imagine your Christmas white elephant gift exchange turned into a game show hosted by Howie Mandel. Good; now you're an NBC executive.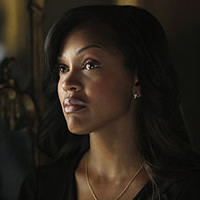 Infamous Watch clips and interviews
NBC's answer to ABC's surprisingly successful Revenge is a soapy drama (coming at midseason) that centers on an undercover detective (Meagan Good) who infiltrates an extremely wealthy pharmaceutical family to investigate the suspicious death of a woman who was her childhood friend. The cast also includes Tate Donovan (Damages), Victor Garber (also Damages), and Laz Alonso (Avatar).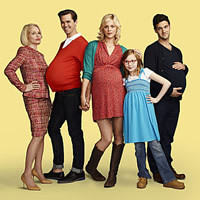 The New Normal Full trailer More clips and interviews
After conquering the musical (Glee) and horror (American Horror Story) genres in recent years, Ryan Murphy attempts to break into the sitcom business with this half-hour comedy about a very modern family consisting of a gay couple, the surrogate helping the couple to have a baby, and the surrogate's own daughter and grandmother. (NBC even makes the Modern Family connection in their promotional materials, so don't blame us.) The New Normal (Tuesdays at 9:30p) is co-created by Ali Adler (No Ordinary Family, Chuck) and stars Andrew Rannells (The Book of Mormon), Justin Bartha (The Hangover), Georgia King, and Ellen Barkin.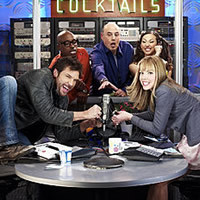 Next Caller Watch clips and interviews
Dane Cook gets to do his best Howard Stern impression in this midseason comedy about a crude satellite radio shock jock who, against his will, is given a new producer and co-host: a feminist straight from NPR (Collette Wolfe, Young Adult). (It's like oil and water! Or like Dane Cook and someone funny). Jeffrey Tambor and Joy Osmanski also star, and the series is created by Stephen Falk (Weeds). Only six episodes were ordered, so even the network doesn't have high expectations for this one.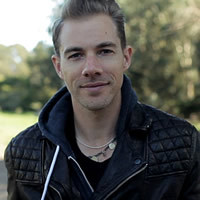 Ready for Love Watch clips and interviews
How does this Eva Longoria-produced dating competition differ from The Bachelor? Well, there are three times as many (i.e., three) eligible bachelors in a single season, and the show also features an early mass audition round in which the contestants are screened by professional matchmakers (correction; "the three best matchmakers in the world"). Otherwise, it sounds pretty much like ABC's hit. Bill and Giuliana Rancic (Giuliana and Bill) serve as hosts of this midseason series.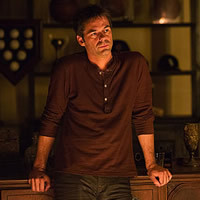 Revolution Full trailer Watch clips and interviews
Along with Hannibal, NBC's other attention-grabbing new drama next season is Revolution, producer J.J. Abrams' latest attempt to bring sci-fi to the small screen. Abrams isn't exactly on a winning streak lately (Undercovers for NBC and Alcatraz for Fox both failed in recent seasons, though the less ambitious Person of Interest did earn a renewal on CBS), but his new series—which was created by Supernatural's Eric Kripke—is attempting something not seen on TV since Jericho: a drama set in a post-apocalyptic world. Revolution (Mondays, 10p) takes place 15 years after a mysterious event permanently disabled all electronics on the planet, plunging the world into chaos. The cast includes Giancarlo Esposito (Breaking Bad), Andrea Roth (Rescue Me), and Billy Burke (Twilight), while Jon Favreau (Iron Man) directs the pilot. The biggest mystery, perhaps, is why it was picked to follow The Voice on Monday nights.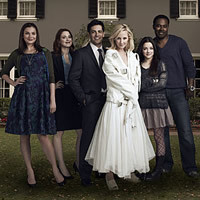 Save Me Watch clips and interviews
One of the odder entries in NBC's midseason lineup, comedy Save Me stars Anne Heche as an ordinary suburban housewife who nearly chokes to death on a sandwich and recovers to find out that she can talk to god. At least, that's what she says, and while her husband (Michael Landes) and friends are skeptical, events start to suggest that she might be telling the truth.
Stars Earn Stripes
This midseason reality show from producers Dick Wolf (Law & Order), Mark Burnett (Survivor), and David Hurwitz (Fear Factor) will theoretically honor America's armed forces by forcing "celebrities" to perform complicated challenges inspired by real-life military exercises. (At least proceeds will be donated to veterans' charities.)
Surprise with Jenny McCarthy
Jenny McCarthy will surprise people in a variety of ways, from pranks to more heartwarming announcements. That's pretty much all we know about this midseason reality show (although we can guess one more thing: it's cheap to produce) starring the actress turned author.