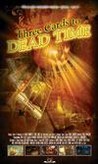 Summary:
Jess Silloway's dreams are haunted by a ghostly figure, always gesturing to be followed. Clues lead to a bed & breakfast on the coast of Maine – the lone surviving structure of a small town mysteriously destroyed eighty years ago...and now one of the most haunted places on earth. Ghost hunters have come for an annual Halloween Night investigation, but it's Jess who glimpses the "other side." But why her? She doesn't know the woman in her dreams and, until now, she had no idea Beacon Bay even existed. She has no connection here, no history. And then...something starts to feel...familiar. [Big Finish Games]
Designer/Producer/Programmer credits provided by
GameFAQs
.
If you contributed to this game and feel you should be credited, please read our
FAQ
.