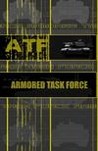 Summary:
From famed Designer Captain Patrick Proctor ("BCT Commander")comes his much anticipated second offering ATF: Armored Task Force. This new offering models practically everything - right down to individual vehicles (including chasis and turret facing), civilians, weather, smoke and much, much, more. Did we forget to mention the AI is even more potent than in BCT Commander, both friendly and enemy. Oh, and the maps are not hexes, but continuous terrain features including trees, buildings, and roads in 3D representaions. This is a must have for those interested in real army tactics and strategies. [Shrapnel Games]
| | |
| --- | --- |
| Developer: | ProSim |
| Genre(s): | Other Strategy Games |
Designer/Producer/Programmer credits provided by
GameFAQs
.
If you contributed to this game and feel you should be credited, please read our
FAQ
.