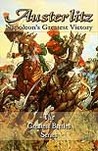 Summary:
When he saw the magnificent sunrise burning through the mist on the morning of the Battle of Austerlitz, Napoleon thought he could see his destiny. The combined Russian and Austrian armies were following the French emperor's script to the letter. The Allies believed they were superior in the numbers and that Napoleon, who had fallen back from the best defensive position in the area, the Pratzen Heights, was afraid of a confrontation. The Allied high command was wrong. The latest game in The Greatest Battles Series. Originally based on the Sid Meiers' "Gettysburg" engine, this game will be the basis for an entire new series of grand battles. [Shrapnel Games]
| | |
| --- | --- |
| Developer: | BreakAway Games |
| Genre(s): | Other Strategy Games |
| ESRB Descriptors: | Violence |
Designer/Producer/Programmer credits provided by
GameFAQs
.
If you contributed to this game and feel you should be credited, please read our
FAQ
.