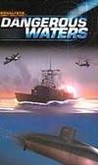 Summary:

Dangerous Waters will be the first title of its kind, allowing you total control over multiple air, surface, and submarine platforms in a modern-day naval environment! The game allows you to focus your attention and to take direct control of individual crew stations and also plan and execute

combined arms naval strategies from a top-down 'Commanders Eye' perspective. S.C.S. - Dangerous Waters allows you control of over 10 of the world's most potent naval units out of a total of more than 270 civilian and military surface, submarine and air units included in the game. [Battlefront.com]

…

Expand
Developer:

Sonalysts

Genre(s):

Combat Sims

# of players:

32 Online

Cheats:

On GameFAQs
Very well conceived and produced. I am not sure if any but the most die-hard naval sim fans will be able to truly appreciate what they have at their fingertips when playing.

Short of actually enlisting, games like Dangerous Waters are as close as many of us can get to knowing the how and why of real world navy operations. Sonalysts Combat Simulations really delivers on this score, authentically recreating the processes of combat, from identification to engagement, in a variety of exciting missions.

And even though the game is rich with tension (certainly enough to offset the mediocre graphics), unless you're at her majesty's pleasure, you probably won't have the time.
This could be an aeronaval simulator. It is better than a game.

In a word... Innovative! No other simulation has tried to simulate an entire mode of war like this one. With it's new platforms (fixed-w

ing aircraft, guided-missile frigate and it's accompanying multi-mission helicopter, and a stealthy diesel submarine) Dangerous Waters is a true anti-submarine warfare simulation. And then the devs decided to throw in the nuke subs from before just to keep things interesting... It's a truly bold game design, and I hope it succeeds so more games like this will be created!

…

Expand

Not as good as I thought it would be. Only slightly better than Harpoon. Harpoon is harder to use, DW has a better GUI. Nice playing though.

Prefer Fleet Command.

…

Expand