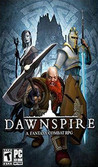 User Score
tbd
No user score yet- Awaiting 2 more ratings
Summary:

Dawnspire: Prelude is a fast-paced tactical action-RPG set in an original fantasy setting. The game features team-based online action with five original playable classes, global rankings, full guild support, a unique and challenging game mode and a dedicated community fully supported through

the game. [GamersGate]

…

Expand
Developer:

Silent Grove Studios

Genre(s):

Role-Playing

# of players:

16 Online

Cheats:

On GameFAQs

Rating:

T
With the lack of a more complex skill development system, I found the clicky happy combat became repetitive fairly quickly. [May 2007, p.69]

A good, cheap laugh, and if you can get some friends to play, it's worth giving it a whirl. [July 2007, p.78]

Dawnspire is an action RPG in the vein of "Diablo," spiced up with capture-the-flag action but lacking most of the addictive fun of that great hackfest.

If you are unfazed by the inevitable, constant death, the steep learning curve, the idiot AI, the poorly-designed (but neat looking) maps, the certain index finger cramps, or the underdeveloped character creation system, you will find Dawnspire to be a unique (and economic) gaming experience.
This is a much undertated minor master piece. it captures the essence of frantic team based pvp perfectly. it's fantasy setting at the t

ime of its release something that was underused till then. it deserved a sequel to expand on the ideas that silent grove had put in place. something with a bigger budget. these 5 men created a great game that sadly did not recieve the audience it deserved. It can still be found today to play for free and i would recommend everyone try it.

…

Expand