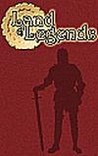 Summary:

Land of Legends is a turn-based fantasy strategy game where eight unique races vie for supremacy using a combination of cold steel and hot magic. Players will have to use their wits and each race's special abilities to bring defeat to the forces of darkness plaguing the lands in the

Land of Legends is a turn-based fantasy strategy game where eight unique races vie for supremacy using a combination of cold steel and hot magic. Players will have to use their wits and each race's special abilities to bring defeat to the forces of darkness plaguing the lands in the thirty-two mission campaign. The game doesn't end with Evil's defeat though, as a built-in matchmaking service allows infinite replayability by giving players the chance to play against live opponents around the globe. [Shrapnel Games]

…

Collapse
Developer:

Tiny Hero Game Studios

Genre(s):

Strategy

,

Turn-Based

,

Fantasy

# of players:

2 Online

Cheats:

On GameFAQs
A niche title geared towards fans of fantasy themed turn-based strategy games looking for something light and fun.

The game is simple, fun, and safe for the whole family. It may not be game of the year, but it certainly is worth a look from strategy buffs.

It's refreshing to be able to just jump into a strategy game and play. [Feb 2006, p.49]

It's a game that turn-based strategy fans will likely put on their laptops break out regularly. As long as no one is looking. [Feb 2006, p.61]

Toss out the antiquated graphics and sound and look at the bare bones of the game and you will find a challenging turn-based title that has strong tactical elements.

Fits the inverse of the corollary "Good graphics don't always make good games". Simple, easy to use, addicting gameplay will make this otherwise ugly duckling of a game appeal to the strategy fiends out there.

Land of Legends is a nice concept with accessible an accessible and well rounded core game. But the lack of depth dramatically undermines this games entertainment value.
Any lover of strategy knows graphics has little to do with gameplay. The two greatest strategy games of all time, Go and Chess, have pieces

Any lover of strategy knows graphics has little to do with gameplay. The two greatest strategy games of all time, Go and Chess, have pieces that are merely symbolic. Grpahically this game is simple, but strategically it's magical. If you love advance wars, try this for a fantasy themed similar experience. I played all 10 levels in the demo in one saturday nonstop, was hooked from the very first one.

…

Expand