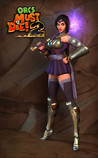 Summary:

Orcs Must Die! 2 begins days after the ending of the original game. With the rifts closed and the magical Order dead, the War Mage finds himself suddenly thrust into a new battle against the mindless orc mob. He has a powerful, if questionable, new companion in the Sorceress, an ex-War Mage

responsible for the destruction of the Order.

…

Expand
Developer:

Robot Entertainment

Genre(s):

Action

Cheats:

On GameFAQs

Rating:

T
The near-flawless execution on every level makes the brilliant concepts at the game's core shine through with perfect clarity. Even if you've never played or so much as heard of the original game, Orcs Must Die 2 is worth a place of honor in your collection.

It's not easy to create a worthy sequel to a great game, but Robot Entertainment managed to go around the now-familiar gameplay formula by adding new ways to develop the characters and a very addictive coop mode.

Like its predecessor, Orcs Must Die! 2 is a straightforward game, but it's also an extremely enjoyable one - doubly so if you have a friend to play alongside. Whether it's a return trip or your first time wading into the horde, this is one tower defense game worth checking out.

Orcs Must Die! 2 is as addicting and fun as the original, and furthermore it adds a great co-op gameplay. However, the absence of new levels, no in-game editor, and too close a resemblance with the original title make Orcs Must Die! 2 look more like an expansion pack than a fulfilling sequel.