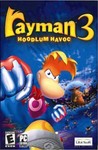 Summary:
Adventurers beware - Rayman's universe has exploded into a whacked-out world of cartoon mayhem and mind-blowing battles! When Globox accidentally swallows the Lord of the Dark Lums, a fanatic army of trigger happy Hoodlums wreaks total havoc to get their Lord back! Rayman's only chance? Journey the vast reaches of the world to purge the Dark Lum Lord from the manic Globox, scour the lands for unearthly new powers, and do battle with hordes of Hoodlum soldiers, contraptions, and maniacal bosses. This time, it's war! [Ubi Soft]
| | |
| --- | --- |
| Rating: | E |
| Developer: | Ubisoft |
| Genre(s): | Action, Platformer, Platformer, 3D, 3D |
| Number of Players: | 1 Player |
| ESRB Descriptors: | Comic Mischief Violence |
Designer/Producer/Programmer credits provided by
GameFAQs
.
If you contributed to this game and feel you should be credited, please read our
FAQ
.