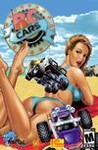 Summary:

R.C. Cars is an arcade racer where the player drives an R/C car over off-road levels that closely reproduce the real world. Within the race the player comes across people, animals, cars and a variety of real-life obstacles. The player drives his small radio-controlled car in an environment

where daily life is in its full swing. He needs to overtake his opponents and finish first. [Whiptail Interactive]

…

Expand

Developer:

Creat Studios

Genre(s):

Arcade

# of players:

1-6

Cheats:

On GameFAQs

Rating:

E
Despite - or maybe because of - its stripped-down gameplay, RC Cars surges ahead as one of hte better recent miniature-car racing games. [Mar 2004, p.80]

The sense of speed is exhilarating and winning a race is a cause for celebration. If the multiplayer community grows this could be a title RC fans will spend a lot of time with.

The expensive and all-or-nothing nature of each race forces you to go through the training session motions each and every time, which can drain a lot of the fun from a competitive race.

For what it is, RC Cars isn't a bad game. However, the distinct lack of features, compared to Creat's previous RC racing title, is a pretty big disappointment. There's just not much here beyond the scant few single- and two-player modes and the currently vacant online mode.

Since there's no way to rent PC games, most will want to pass on this and just buy an RC car instead. Good try, but next time, less physics and more fun.

Despite being colorful and friendly looking, it doesn't have the charm of "Re-Volt" for some reason. Still, at a budget price, it's a decent deal. [May 2004, p.69]

There's something inherently insipid about a game that simulates something already simulating something else. You can't help but wonder if fans wouldn't simply rather race RC cars instead of playing this game.
For an RC Car racing game (meaning quirky controls and no sliding turns), this is very nice. The jump-whenever-you-want button is an

excellent addition that helps to set this game apart. By jumping, you can avoid a lot of the little obstacles that would otherwise make some tracks frustratingly difficult. It's also nice to have turbos at your disposal rather than built onto the track. You will have to practice single races before entering a cup competition because you have to know where the checkpoints are to be able to keep up in the race. If you ever have to "reset" back to a checkpoint, you're pretty much out of the race. Graphics are quite nice. What's there is enough to make it seem real and to keep you entertained for some time. You get a cheap thrill out of ramming people in the feet just to hear their reactions.

…

Expand