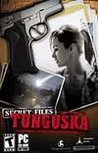 Summary:
Nina is torn from her day-to-day routine when she discovers that her father has disappeared without a trace. As the police seem reluctant to help her, Nina sets off to look for clues relating to her father's whereabouts. She joins efforts with Max Gruber, a young colleague of her father who impulsively offers to help the attractive young lady. Together, they quickly determine that Nina's father was involved with a research expedition to Siberia in an attempt to reveal the causes of the mysterious Tunguska catastrophe of 1908. In that mysterious event, a mighty explosion triggered an inferno that decimated the land of Tunguska. Nina and Max soon realize that her father's disappearance is related to the Tunguska event and the search for answers leads Nina and Max to the most remote corners of the world – Berlin, Moscow, Cuba, China, and the Antarctic. Powerful adversaries are also interested in Nina's father's secret. In the end, much more is at stake than just the disappearance of an old man. [DreamCatcher Interactive]
| | |
| --- | --- |
| Rating: | T |
| Official Site: | http://www.tunguska-game.com |
| Developer: | Fusionsphere Systems |
| Genre(s): | Adventure Games |
| Number of Players: | 1 Player |
| ESRB Descriptors: | Blood, Mild Language, Mild Suggestive Themes, Mild Violence, Use of Alcohol and Tobacco |
Designer/Producer/Programmer credits provided by
GameFAQs
.
If you contributed to this game and feel you should be be credited, please read our
FAQ
.