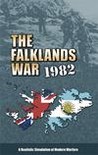 Summary:

Three hundred miles off the Argentina coast in the south Atlantic lay the Falkland Islands, consisting of two main isles (East and West Falkland) and about two hundred smaller islands. The only town is also the capital of the region, Port Stanley, and it is from there that the British

Three hundred miles off the Argentina coast in the south Atlantic lay the Falkland Islands, consisting of two main isles (East and West Falkland) and about two hundred smaller islands. The only town is also the capital of the region, Port Stanley, and it is from there that the British territories of South Georgia and South Sandwich Islands are administered. With a total population of only a couple thousand stalwart individuals (and many more sheep and livestock) the Falklands seems an odd place to fight a war over, but that's exactly what happened in 1982. [Shrapnel Games]

…

Expand
Developer:

ProSim

Genre(s):

Strategy

,

Wargame

,

Real-Time

Cheats:

On GameFAQs
ProSIM's wargames aren't for everybody - Falklands War has a 126-page manual, and it needs reading - but grognards will be in heaven. [Nov 2005, p.77]

The daunting interface and lack of user-friendly graphics makes this more of a challenge than you might expect. It requires a lot of studying and research to fully maximize what this game can do.

Much like previous ProSIM games, I am not part of the target audience. However, I can see that those who enjoy the thrill of complex, detailed military strategies will find a worthy title to add to their libraries.

The armored Task Force engine is one of the most complete, and completely baffling, systems in modern computer wargaming[sic]. [Dec p.63]

This is obviously a labor of love for the programmers who made the title, but the focus (a little known conflict in the early 80's) is just too narrow to be of any entertainment value for all but the most rabid of war sim gamers.