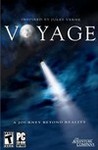 Summary:

In this not so distant past, the far side of the moon conjured up the most fascinating theories. Even some of the world's greatest scientific minds believed that our natural satellite had an atmosphere that could, and did, support various life forms. Based on the premise of Verne's novel,

In this not so distant past, the far side of the moon conjured up the most fascinating theories. Even some of the world's greatest scientific minds believed that our natural satellite had an atmosphere that could, and did, support various life forms. Based on the premise of Verne's novel, Voyage follows as a group of scientists create a space capsule with the intent of landing on the moon's surface. Where as in the novel, their mission fails, leaving them floating high above the lunar surface, in this fascinating adventure, they succeed! As scientist Michel Ardan, players are able to wander the surface of the moon and witness the explosion of plant life at dawn. Soon they will encounter the Selenite City, the home of an ancient but highly intelligent race, the Selenites. With each step of the journey, questions arise as to the fate of the Selenite people: Did they deteriorate, like so many of the statues they left behind? Did they leave the surface to seek refuge in the center of the moon? Once players answer these questions, they may find their way to back to earth with news of their fantastic discoveries. [Adventure Company]

…

Expand
Developer:

Kheops Studio

Genre(s):

Adventure

,

3D

,

First-Person

,

Sci-Fi

,

Sci-Fi

# of players:

1 Player

Cheats:

On GameFAQs

Rating:

T
Not only did I enjoy the game but it makes me want to read, or at least do some research on, Mr. Jules Verne.

So far we have pleasing graphics, an easy interface, and unique puzzles... but what about the down side? The only issue I had was that the game occasionally got tedious, but this could simply be a result of being stuck for so long.

I thought that maybe the game could have been designed a bit tighter so that it wasn't so easy to solve puzzles before having all the clues, but I know I'm on shaky ground here. Many players prefer openness (or non-linearity) in adventure games, so I shouldn't dwell on this point.

True-blue adventure game fans will find hours of enjoyment here and should strongly consider adding it to their library, however there's nothing entirely new or innovative to be seen that hasn't been done, and done much better elsewhere numerous times before.

Voyage just isn't creative enough or fun enough to make it a worthwhile purchase, and so I wouldn't recommend it. Adventure game developers like Kheops Studio would be much better off making fewer, more interesting games than in cranking out multiple titles each year.

This game won't shine your shoes, press your clothes or mow your lawn, but it's a game that offers a few minutes of removing yourself from the rigors of day-to-day life.

Ardent puzzlers will love the complexity and variety of the puzzles; others may find them a little too difficult and frustrating at times.
Point & click game based on Jules Verne story. I haven't read the book, but I've heard, that this game doesn't go too strictly with it. Story

Point & click game based on Jules Verne story. I haven't read the book, but I've heard, that this game doesn't go too strictly with it. Story itself is pretty self-explanatory. Actually it was hard to get feeling of being in moon, but that didn't bother me.
This game has very nice graphics, but not the best according to modelling. Alien models are quite cheesy, but funny in a good way! Immersion is great. If you put key in a slot and move at other camera position, the key will appear in that view too and contrariwise. I loved the music too, it puts you in right mood. You can also do several puzzles in order you want and them are actually quite easy. You can get stuck easily too, but this is not the hardest puzzle-oriented point and click game, that I've played.

Very good point and click game with intuitive puzzles and great atmosphere and voice acting.

…

Expand