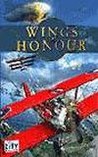 Summary:

Wings of Honour creates a new genre: the flying sim adventure. Set in World War I it allows players to fight and fly a variety of combat aircraft of that period of history. Combining the intrigue of battle assignments with the thrill of in-your-face action, this dynamic game is a unique mix

of both the adventure and flight sim genres. From air battles and breath taking 30 aircraft dog fights to bombing and spy missions Wings of Honour provides the kind of action packed gameplay that is guaranteed to satisfy both flight sim specialists and the wider gaming fraternity. As you progress from one mission to the next you can take with you the skills you have already learned to help you achieve your next goals. Larger than life special effects include tracer bullets, realistic water, spectacular explosions and volumetric effects. To add to the immediacy and all action fun, flight controls are more simplified than in true simulations and dynamic action in several missions guarantees a game ratio that takes arcade gaming to new levels. Providing the crisp realism that is the hallmark of all good simulations the graphically rich environments include a lot of details. With intricate reconstruction of models and the ground, Wings of Honour guarantees to immerse you into the action as you fight it out in the war torn skies. [City Interactive]

…

Expand
Developer:

City Interactive

Genre(s):

WWI

Cheats:

On GameFAQs

Rating:

T
All in all this is a fun game, while most flight simulators are difficult to fly you can easily pick this game up and be shouting 'chocks away' before you know it. Some people may find it a little short but it's got re-play value on the higher difficulty setting.

Decent fun, easy to pick up, but a little too old to pass into legend. [Sept 2008, p.66]

Credit has to be given to City Interactive for venturing into an era that is most commonly avoided and creating a game that will please historians; though not grab the attention of many gamers.
I find this game dull... the detail on the ground look like it was done in the final 2 days of the project.. If city had a bigger budget i

believe that this game would have been top of the range. But sady this was not to be, was not worth the money spent on it..

…

Expand