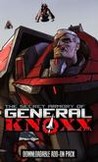 Summary:

(Downloadable Content) Borderlands goes to ELEVEN! You may have seen some games raise their level cap by 5, or maybe even 10, but with The Crimson Lance Assassination Squads wreaking havoc and Crawmerax the Invincible being all invulnerable and stuff we knew you'd need more than just 10. An

d that's why Borderlands goes to ELEVEN! The Secret Armory of General Knoxx is an add-on pack for Borderlands that adds new guns, new Class Mods, new vehicles, new missions, new enemy types, and increases the level cap to 61. [Xbox.com]

…

Collapse
Developer:

Gearbox Software

Genre(s):

First-Person Shooters

Cheats:

On GameFAQs

Rating:

M
Compared to the other two DLC offerings for Borderlands, 'The Secret Armory of General Knoxx' is the one I would recommend for anyone who haven't jumped into any of the new content yet. Not only does 'General Knoxx' expand on the ending of the original game, but it offers up a number of new tweaks that work in everyone's favour.

The increased level cap, new vehicles, new weapons, and enemies with high difficulty levels will not only give you more to do in the game but also provide a very challenging path to complete the missions.

A really huge expansion to Borderlands that feels a little bit like a missed opportunity. But all the tedious transportation and rather dull enemies can't hide the fact that there really is a lot to do here, and that the new vehicles are good fun. In the end, General Knoxx is recommended for all of you who have missed the adventures on Pandora.
By far the best out of the three DLC packs. Higher level cap, new enemies, a HUGE new world to explore, what else could you ask for, a millio

n dollars? To say that this DLC pack needed anything else would be being extremely greedy in my eyes. Perfect. 10/10

…

Expand

There's alot of fun to be had with this DLC. New cars. New guns (pearlecent). New enemies. NPCs are funnier than before and better developed.

Level cap to 61 is a good addition. Worth a try.

…

Expand