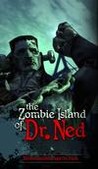 Summary:

(Downloadable Content) The Zombie Island of Dr. Ned is an add-on pack for Borderlands with new enemy types, new missions, and new ... surprises. The Jakobs Corporation would like to invite you to experience the splendor of a corporate owned small town known as Jakobs Cove. Any rumors you m

ay have heard about the "undead" walking our streets are completely preposterous and we officially deny them all. If those rumors turn out to be true simply purchase a firearm from the conveniently located Jakobs Brand Vending Machines and aim for the head. Also, would you mind saving our employees? (Non-union only please).

…

Collapse
Developer:

Gearbox Software

Genre(s):

First-Person Shooters

# of players:

4 Online

Cheats:

On GameFAQs

Rating:

M
In releasing this DLC, Gearbox and 2K have done what seems to be so difficult for other studios: drop a well designed, value laden expansion pack in a timely manner.

A well priced DLC that sadly ends a little too quickly, it would have been nice to play with new weapons but we can't have everything. A perfect add-on for Borderlands.

If you haven't gotten completely burned out of Borderlands' shoot-'n-loot hijinks or are looking to pick the game back up, taking a relatively new character through the perils of The Zombie Island of Dr. Ned is certainly a worthwhile endeavor.

If nothing else, it's entirely fitting that a game that's always been brilliantly brainless is now genuinely brain-dead as well. Oh, and I finally got that bloody Mario-themed Achievement. SCORE.
I was supposed to give this DLC a 9, but I accidently gave it a 10(epic fail).Well it´s still an awesome DLC.There is really noth

ing else I can say about it.

…

Expand

Too much at $10? - that's crazy. I loved the DLC. New enemies - lot's of new humor - and Zombies! I spent $20 for a 2 hour movie I

enjoyed a lot less than the $10 I spent on Zombie Island (and I got 6 hours of additonal fun).

…

Expand

No new guns. Barely new enemies. No fast travel. 5 hour DLC. It feels too overpriced. But the art style is awesome adding green to the screen.

Tries to be funny and fails.

…

Expand

WAY to short to be $10. It may be worth $1.99 with the amount of material they give you. Its probably in the 2 to 4 hour range of gameplay wi

th no new real challanges and no new weapons. I dont think any boss took over 20 seconds to beat. Very dissapointed in this, it is just a remake of many of the earlier maps with a darker look to them. Like something some of the guys did for Halloween and decided to sell it. Do not waste your money.

…

Expand