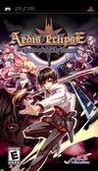 Summary:
The unique gaming experience offered by Aedis Eclipse comes from the combination of team customization and item crafting on one hand, to the dynamic combat multi-unit battle system, on the other. The PSP format allows gamers to briefly pick up their hand-held to enjoy strategic thinking anytime, anywhere. The world of Aedis Eclipse is divided into three worlds, the divine, upper, and lower. Each world has their own main character and story; therefore, players can experience three different stories at once. Depending on which world the player begins with, the difficulty level will differ. The lower world is regarded as the beginner's stage with many tutorials to guide the player through the game. The higher the world you choose to play with, the more difficult it becomes. DIVINE WORLD: In a world where angels and demons lived together in peace, tragedy strikes as the king of demons is assassinated by a radical group of angels. Now, a war has broken out between the two factions and you must stop them from destroying the world. UPPER WORLD: A young knight has arrived in a kingdom ruled by a ruthless ruler. His fellow comrades have been captured by the royal army and you must rescue them before it is too late. LOWER WORLD: Another boring day of school is suddenly interrupted by a surprise bombardment. While most students flee for safety, you decide to watch the battle. In a bizarre turn of events, you are dragged into the bloody warfare. [NIS America]
| | |
| --- | --- |
| Rating: | E10+ |
| Official Site: | http://www.nisamerica.com/games/aediseclipse/ |
| Developer: | Neverland, Idea Factory |
| Genre(s): | Role-Playing, Strategy, Turn-Based, General, General, Fantasy |
| Number of Players: | 1 Player |
| ESRB Descriptors: | Fantasy Violence Language Use of Alcohol |
Designer/Producer/Programmer credits provided by
GameFAQs
.
If you contributed to this game and feel you should be credited, please read our
FAQ
.
| | |
| --- | --- |
| | |
| | #84 Most Discussed PSP Game of 2007 |