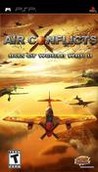 Summary:

Air Conflicts is an arcade flight simulator game set in World War II, featuring the aircraft of this period and historically inspired missions. The emphasis is on intense dogfights, daring bombing raids and exciting aerial missions. 13 non-linear campaigns with more than 240 action-packed

Air Conflicts is an arcade flight simulator game set in World War II, featuring the aircraft of this period and historically inspired missions. The emphasis is on intense dogfights, daring bombing raids and exciting aerial missions. 13 non-linear campaigns with more than 240 action-packed missions (patrols, manoeuvres, strategic bombing, air support, air superiority, interdiction, paratroops and supply deployment, prevent bombing missions). Authentic historical timeline and missions with focus on the gameplay. Easy control over aircraft and fun air battles. Fly for the US Air Force, Royal Air Force, Luftwaffe or Red Army Air Force. Fly with 17 authentic planes (Spitfire, Mosquito, Avro Lancaster, He-111, Ju-87 Stuka, Bf-109, Gloster Meteor, Gotha 229, DB3, IL2, Lavochkin 5, Bisnovat 5, P-38, P-51, P-47 Thunderbolt, and B-17 Flying Fortress). Advanced ranking system, with authentic medals and ranks. [Graffiti Entertainment]

…

Expand
Developer:

Cowboy Rodeo

Genre(s):

Simulation

,

Flight

,

WWII

,

WWII

,

Combat

# of players:

1-8

Cheats:

On GameFAQs

Rating:

T
A lot of stuff to do, but everything's the same. If you are a huge fan of WWII and like to fly around in old aircrafts, then give this game a shot, everyone else should consider a look before buying.

A number of notable frustrations keep this moderately enjoyable flight-combat sim from soaring.

Air Conflicts could have been a great flight-combat sim seeing as all the right elements are present but there are way too many obstacles that make flying these unfriendly skies too boring. Plagued with a number of frustrating problems, this is a game that fans of the genre should skip.

Sadly, the sound is the best part of Air Conflicts, but who really cares about sound when the game looks below average and is virtually unplayable.

The game isn't fun. The load times, graphics, presentation, and lack of readable fonts and radars makes this game unplayable.

The biggest problem is just that none of what Air Conflicts offers is fun.

Air Conflict isn't worth the money even if you're paid to play it.
Not a bad game. It had a believable campaign for each of the playable sides, along with simple controls and okay graphics. The combat was also

Not a bad game. It had a believable campaign for each of the playable sides, along with simple controls and okay graphics. The combat was also enjoyable. Overall a rather nice game.

…

Expand
| | |
| --- | --- |
| 67 | |
| 51 | #51 Most Discussed PSP Game of 2009 |
| 39 | #39 Most Shared PSP Game of 2009 |