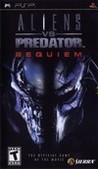 Summary:

In this third-person action-adventure, players assume the role of an elite lone Predator with an arsenal of exotic weaponry and equipment at their disposal. The game gives access to advanced technologies with the Predator's wrist computer including Pred-tech/thermal vision modes and cloaking

, to track, stalk and annihilate both humans and Aliens. Both classic and completely new futuristic weapons such as wrist blades, laser trip mines and dual shoulder cannons give players the ability to eradicate all traces of the Alien race. With co-op multiplayer mode players are be able to team up with friends wirelessly to play as the Predator's comrades, attempting to withstand hordes of attacking Aliens. To add to the game's challenging features, an honor point system evaluates the player's success based on how closely they adhere to the Predator's value system. The higher the honor achievement, the more weapon and armor upgrades available to the player. [Sierra]

…

Expand
Developer:

Rebellion

Genre(s):

Action Adventure

# of players:

2 Online

Cheats:

On GameFAQs

Rating:

T
Concentrates on totally accommodating casual players, at the expense of entertaining fans. [Jan 2008, p.122]

In short bursts, it plays well but the stellar source material begs for a better tie-in, and the game's finale provides all the exctiement of a soggy firework. [Jan 2007, p.72]

Beyond the short-ish 15-mission single-player experience you have a very basic ad hoc two-player Skirmish multiplayer mode that doesn't really add much to the game.

It's decent, but never goes the extra distance. Overall the game is dark, making a lot of the detail difficult to see. There's just a bit too much of the vision modes which seems to be a cheap way out of rendering detailed characters and environments.
Pretty good but I like butt sex with dogs more! Monkey see monkey do...monkey no see monkey step in do. All and all I'd give it a nice

fat 9 for total factor of flag pole but don't just yet iron your waffle cause carrots don't just give gifts away.

…

Expand

Damn, i was really looking foward to this one. 2 of the baddest sci-fi monsters duking it out? check! Original developer Rebellion (they made

the awesome avp for pc) making it? check! so what went wrong? Nothing in particular really, and that what hurts so much. The game is COMPLETLY average and in some cases boring. All u do in every level is kill some aliens here and there while making sure that u leave no trace of evidence behind. Its very saddening, especially if ur a fan of alien or predator.

…

Expand

Boring and Too Repititive!!!! Play this only if you want to navigate long levels and killing a maximum 10 aliens per level. Suited only for t

he hardcore fan. Controls awkward, movement is stiff, combat is non-existent(just blast away with your cannon). What can I say more?

…

Expand