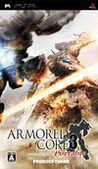 Summary:

[Playstation Network] In Armored Core 3 Portable, players battle as members of the mercenary organization "Raven," piloting customizable mecha Armored Core (AC) units. The ACs are customizable with different weapons and machine parts that can be reconfigured as necessary to complete a varie

ty of combat-intensive missions. Over 50 action-packed missions. Enhanced menu interface and in-game visibility. Pilot a fully customizable AC unit, configuring weapons, parts, armor color and emblems. Over 200 parts available to assemble and create your own machine, including parts from the previous games in the series. PSP Ad Hoc Network support; easily battle up to four friends using a wireless connection. Challenge opponents nationwide over the Ad Hoc Party on PlayStation3. A new opponent from the Japanese Armored Core novel. Future-proof data can be saved and transferred to future Armored Core PSP titles. [From Software]

…

Expand
Developer:

From Software

Genre(s):

Futuristic Combat Sims

Cheats:

On GameFAQs

Rating:

T
A port of a six-year-old PS2 title might not fit the profile of a platform defining title, and it might be more than a little ironic, but the fact that the game manages to accomplish this so far out from its initial release is a testament to its quality.

If you're not already a fan of the series you won't be won over by this clunky installment. With an enhanced sequel coming out later this year, there's no reason to fuss with this eight year old PS2 game!

It's possible Armored Core 3 may well have offered something during the PS2 generation, but whatever relevance it might've had seven years ago - especially given its inelegant transition to the PSP - has long since passed.