Publisher:

Ubisoft

Release Date:

Jun 6, 2006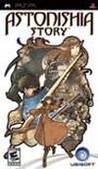 Summary:

In Astonishia Story, players embody an honorable royal knight and embark upon an epic journey to recover a stolen sacred relic that symbolizes prosperity and fortune. Players must seek the help of wizards and many other mysterious allies to succeed. [Ubisoft]

Developer:

Sonnori

Genre(s):

Console-style RPG

# of players:

1 Player

Cheats:

On GameFAQs

Rating:

E10+
It's fun to play through, and easy to pick up and put down again pretty quickly, both a must for a handheld port and a rarity in the SRPG subgenre.

Lackluster story, flat characters, and a mere fifteen or so hours of gameplay really make this hard to recommend even to the most hardcore RPG players.

Broken down to choosing an RPG for PSP, Astonishia Story is the best available next to the import-only "Tales of Eternia," which you should get instead if you have access to it.

From the moment you turn on the system, you won't be able to ignore the fact that this game sucks you into a sub-SNES warp: and not in a good way.

I wouldn't pawn off this boring dreck to even the most annoying neighbor kid. [Aug 2006, p.90]

It's painfully obvious that Astonishia does nothing to ebb the flow of downright disappointing roleplayers on the portable Playstation. [Aug 2006, p.92]

If this were 1995, we might find more to like. But it's 2006, and we don't pay $40 for SNES remakes anymore, especially unimaginative ones that aren't programmed well or translated properly like Astonishia Story.
Well,For the game of "Astonishia Story" for the Playstaion Portable,It truly proves that with hard work,graphic don't matter.As long as the

Well,For the game of "Astonishia Story" for the Playstaion Portable,It truly proves that with hard work,graphic don't matter.As long as the storyline is good.

…

Expand

I wish i could go in to the negative on this one. Horrible game. No quest book. Character not at all customizable. Most of the time you look

I wish i could go in to the negative on this one. Horrible game. No quest book. Character not at all customizable. Most of the time you look like a chicken with your head cut off because you have no idea what you are supposed to be doing. I would pay them to take this game back.

…

Expand

I am deeply troubled by the fact that I paid 40 bucks for this game. The only thing good I can say about it is that purchasing Astonishia,

I am deeply troubled by the fact that I paid 40 bucks for this game. The only thing good I can say about it is that purchasing Astonishia, and being completely disgusted with its quality, has caused me to research my future PSP game purchases a bit more.

…

Expand