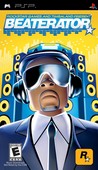 Summary:

Beaterator for the PSP system is both a powerful music mixer with robust beatmaking features, as well as a collection of original music and rhythm games and challenge modes - all available in the palm of your hand. [Rockstar]

Developer:

Rockstar Leeds

Genre(s):

Music Maker

Cheats:

On GameFAQs

Rating:

E
For our money, it's the best portable eight-track available and one of the best reasons to put your PSP in your bag before the commute to work.

This is what I like about the gaming industry: there's always a surprise waiting for you around the corner. Although the offering has obvious technical limitations and does come with a solid learning curve, Beaterator is very interesting and packs enough punch to please and intrigue any kind of gamer. Beaterator is worth checking out!

I wouldn't say you're ready to start your own label with a PSP and a pocket full of dreams or anything, but certainly your start in the world of commercial hip-hop and electronic music making has never had a more accessible leg up, or been so much fun.

You can make a great beat with a bunch of simple functions through the Live Play-mode, but you can also make great tracks in de Studio mode. The program offers a variety of possibilities to go very deep in the game, but seeks out the competition with the computer-software at that point. And if I have to choose between a PSP game or a computer program I choose to make my tracks on a computer for that use.

You CAN make complete songs with Beaterator, it's just not as easy as it should be. It is a portable music studio for your PSP with many of the same features you find in expensive PC software for a mere $40, so that's saying a lot. But a portable music studio simply has to be easy to use, and Beaterator isn't there, yet.

Slickly presented and impeccably well put together, Beaterator is an incredibly accomplished piece of music-making software that will keep you occupied for as long as you're invested in creating your own tracks.

Beaterator could've been a little more consumer-friendly, with a better hands-on tutorial and some minor sequences. Not everyone will get it, but would-be music maestros and DJs should definitely give it a look.
Beaterator is an awesome music app which makes it very easy to make tracks that sound professional. It really akes you feel like a great

Beaterator is an awesome music app which makes it very easy to make tracks that sound professional. It really akes you feel like a great musician like Timbaland.

…

Expand

Had this for a couple of days now and love it. I have Cubase etc on my PC and this does a very similar job on a handheld. I don't use

Had this for a couple of days now and love it. I have Cubase etc on my PC and this does a very similar job on a handheld. I don't use timbaland's loops at all - everything I've done I've started from scratch - it gives you options for chords, there's a separate drum synth tool, you can add effects (reverb etc) on the synths, seriously, it's awesome - it's all you need to make your own music now

…

Expand

Played with it for a while, but ultimatelly i lost interest, with some homebrews doing about the same stuff in a more likeable manner. Still,

Played with it for a while, but ultimatelly i lost interest, with some homebrews doing about the same stuff in a more likeable manner. Still, this "game" deserves it's respect for being unique, for being Rockstar and, to be objective, is not bad in itself, just not everyone's kind of thing.

…

Expand

I felt let down by this after all the hype preceding its release. Essentially you can use someone else's loops to build a song, which in

I felt let down by this after all the hype preceding its release. Essentially you can use someone else's loops to build a song, which in retrospect is all Timbaland is capable of, so maybe the program is true to form.

…

Expand