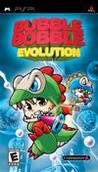 Summary:

Exclusively for Sony PSP, the game retells the classic story of two human brothers trapped in bubble-blowing dinosaur bodies by an evil nemesis. The action takes place in two "Towers of Entertainment", a prison comprised of cylindrical sections which form the game's levels. The action

Exclusively for Sony PSP, the game retells the classic story of two human brothers trapped in bubble-blowing dinosaur bodies by an evil nemesis. The action takes place in two "Towers of Entertainment", a prison comprised of cylindrical sections which form the game's levels. The action revolves around three screens on a central spindle where puzzles must be solved to progress to the next level. Here you will find all the classic elements of Bubble Bobble gameplay – the monsters and the bubbles, but wait, the game's just got tougher. Bubble Bobble Evolution will test your intellect as much as your reactions. Intense competitive multiplayer mode for up to four players. [Rising Star Games]

…

Expand
Developer:

Opus

Genre(s):

Miscellaneous

,

Puzzle

,

Puzzle

,

Puzzle

,

Matching

,

Matching

# of players:

1-4

Cheats:

On GameFAQs

Rating:

E
BB Evolution requires a lot of legwork for very little reward and it won't keep you entertained for long. [Nov 2006, p.86]

A giant step in the wrong direction for the franchise and if you loved the original just as much as I do you should seriously avoid this one.

Official Playstation 2 Magazine UK

Not a shocking update of the arcade classic, but an unnecessary one. [Christmas 2006, p.103]

Fans of Bubble Bobble, puzzle games, dinosaurs, or fun will be sorely disappointed.

Ultimately, Bubble Bobble Evolution is a matter of trying to fix something that wasn't broken.
This game is alright, but totally was not the game I was expecting out of a Bubble Bobble title. The puzzles are a bit inane, and leave very

This game is alright, but totally was not the game I was expecting out of a Bubble Bobble title. The puzzles are a bit inane, and leave very little reward and satisfaction. The game is also sort of misleading and confusing, I'd suggest playing this game for a day or two if you have nothing better to do.

…

Expand