Publisher:

SCEA

Release Date:

Sep 23, 2008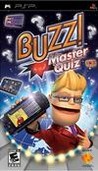 User Score
tbd
No user score yet- Awaiting 1 more rating
Summary:

Packing over 3000 questions on topics including music, celebrities, TV, sport, science, nature, movies and more, BUZZ! Master Quiz puts gamer's knowledge to the test at home or on the move. With six new round types specifically designed for PSP including the speed-is-of-the-essence "Quickfir

e Challenge", the picture-puzzler "Picture This" and the mind-boggling "Virus Challenge", each round also comes complete with pictures and videos. [Sony]

…

Expand
Developer:

Relentless Software

Genre(s):

Parlor Games

# of players:

4 Online

Cheats:

On GameFAQs

Rating:

E10+
It's fun to pick up and play whenever you have a moment, but with the lowered production values you might have just as much fun with a mobile trivia game.

For short spurts Buzz! Master Quiz on the PSP can be entertaining and fun.

As fun as it is in short bursts, it's nowhere near as complete and enjoyable as one of the home console games when played with friends.

I definitely enjoyed answering questions on the go, but clearly this isn't the way it to put it all together. That's not to say that Buzz can't eventually be a great portable game, but it needs a lot of work to get to that point!
It is fun to play in the beginning but after a while you get tired of it. Though it kept me a few good hours hooked.

Master Quiz is a solid and enjoyable Buzz entry but there is a sufficient lack of game types and the presentational aspects are lacking like

the bland sense of atmosphere of being a quiz show

…

Expand

It is a solid trivia game. The trivia questions are pretty good. But the overall environment of the game is a little bit boring. Because of th

at, sometimes I'm getting tired of playing this game. It's a good game but "Buzz! Quiz World" is better than this one.

…

Expand