Publisher:

Capcom

Release Date:

Oct 24, 2006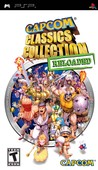 Summary:

(Also known as "Capcom Classics Collection Volume 2") Capcom Classics Collection Reloaded offers arcade classics which can all be enjoyed alone or via multiplayer using the PSP system's wireless ad hoc mode. Game sharing abilities not only pushes Reloaded over the compilation echelon, but

(Also known as "Capcom Classics Collection Volume 2") Capcom Classics Collection Reloaded offers arcade classics which can all be enjoyed alone or via multiplayer using the PSP system's wireless ad hoc mode. Game sharing abilities not only pushes Reloaded over the compilation echelon, but presents the opportunity to be challenged just like the good ole arcade days. For those wanting to experience the games in their original presentation, the screen settings can be changed to suit just that. Relive Capcom's history and savor bonus features by earning credits towards Reloaded's themed slot machine to unlock a buffet of goods including original art, playing tips and secret codes. More than 15 arcade-perfect classics on a single UMD including Eco Fighers, King of Dragons, and Knights of the Round. A wealth of added features including game history, playing tips, original artwork, and new secret codes. Customizable controls to suit any gaming style. [Capcom]

…

Expand

Developer:

Capcom

Genre(s):

Compilation

# of players:

1-3

Cheats:

On GameFAQs

Rating:

T
An absolute must for any retro gamer or PSP owner.

Capcom finally strikes retro gaming gold with Capcom Classics Collection Reloaded for the PSP. Not only does it cram in dozens of unforgettable classics into one tasty package but the games featured here still hold up wonderfully after all these years.

Additionally, there's a ton of extra stuff you can unlock ranging from art to music, so there's no question that, like the last collection, Reloaded will keep you glued to your PSP for quite some time. [Nov. 2006, p.124]

A nice eclectic mix of arcade classics that look and play well on the PSP.

The whole collection plays out like the unlockables - tons of entertainment and worthwhile content that's slightly soured by the difficulty of getting to it.

The only serious criticisms I have are the brutal loading times, which seriously detract from the pick up and play appeal of the game, and the fact that we're going to need to buy numerous collections to get all the great Capcom oldies.
Another Capcom compilation, with a superb classic: The Ghost'nGoblins Family. This make the compilation a must have for retro lovers.

Another Capcom compilation, with a superb classic: The Ghost'nGoblins Family. This make the compilation a must have for retro lovers. Other worthy games like 1942, 1943. For me, Streer Fighter II is not interesting having tekken in the PSP because I'm not a 2D fighter fan. Not better, than Remixed collection but Ghost n Goblins is so great (and difficult).

…

Expand