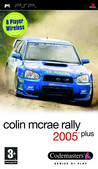 Summary:

A special edition of Colin McRae Rally 2005 comes to Sony's handheld format with over 30 rally cars, a diverse range of rally events, cups and championships to create a world of rallying for players on the move. With a variety of gaming modes, including 4WD Championship, Career and

A special edition of Colin McRae Rally 2005 comes to Sony's handheld format with over 30 rally cars, a diverse range of rally events, cups and championships to create a world of rallying for players on the move. With a variety of gaming modes, including 4WD Championship, Career and Multiplayer modes over the wireless network, the game's structure will offer the perfect mobile rallying experience. The game's structure enables players to pick up and play for as long as they wish - whether it be hours or 5 minutes at a time - their progress will be updated without having to wait for a save point. [Codemasters]

…

Expand
Developer:

Six by Nine

Genre(s):

Driving

Cheats:

On GameFAQs
A sound and enjoyable rally title with great vehicle physics, but in the same locations. [GamesMaster]

Colin McRae Rally 2005 Plus is a great port of the home console version and if you're a fan of the series and a PSP owner then get it - just be aware that you'll have played it all before.

Upon venturing deeper into the game it is apparant that Codemasters have had to take a few shortcuts in making the game possible. The game is plagued by poor loading, average handling and really difficult opposition, that makes it seem like the game is warning you not to play it.