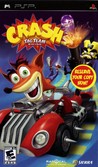 Summary:

For the first time ever in a racing game, players will be able to fuse two cars together on the fly to form a super vehicle with the all-new "clashing" technology. In Crash Tag Team Racing, players can combine their car with an opponent's mid-race to make a super-car equipped with a powerful

ul turret gun. When clashed, players can either get behind the wheel and drive or fire an onboard weapon. Each character has his or her own uniquely deadly 360? rotating turret. Players can continue the action out of the car where they can explore the entire world on foot and collect upgrades for their cars and unlock bonus tracks. [Vivendi Universal]

…

Expand
Developer:

Radical Entertainment

Genre(s):

Car Combat

# of players:

24 Online

Cheats:

On GameFAQs

Rating:

E10+
But for sheer fun and ease of play, I don't think that you can find a better game than Crash Tag Team Racing.

Although the game is able to provide players with a diverse array of gameplay modes and even some surprisingly heavy platforming elements, they all eventually wear thin.

The racing isn't the star of the show, and the load times are painful, but Crash Tag Team Racing's supplemental elements pull the whole thing together into a mostly enjoyable experience.

This is really a funky platformer with okay raacing tacked on. Either way, it's still lots of fun, and arguably better on PSP than PS2. [Christmas 2005, p.104]

Crash Tag Team Racing isn't as enjoyable on the PSP, but it's a step forward for the Crash Bandicoot franchise, the game is fun whilst it lasts.

While CTTR isn't exactly what we'd call a memorable game, it offers some decent fun while it lasts – just not much more. [Mar 2006, p.87]

There's a lot of game in Crash Tag Team Racing, but there isn't a lot of good game. And since there isn't really a lot of kart-racing game either, on a system that seems to have more pure racing games than any other in recent memory, it's hard to think of a good reason to tag it any other way.
Great game, loadsa action.

Crash Tage Team Racing for the xbox is awesome. Thsi version is BETTER. Add to that the fact it's on a handheld, co-operative wireless p

lay, and outstanding graphics for psp, a definate buyer.

…

Expand

Great fun but painful load times.

I bought this game as it was £20 and I thought it might pass the time. I have really enjoyed it and think that it is perfect for the PS

P gamer. Yes, it's very easy but it has enough going on to pass a train journey for a few weeks and also it is funny so keeps the whole expereince light and easy going. I recommend this game to anyone who just fancies enjoying a game and not looking for something to blow them away with funky new things - platforming as it should be. Fun!

…

Expand