Publisher:

Atlus

Release Date:

May 26, 2009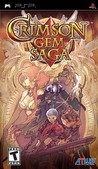 Summary:

The game, a lovingly crafted exploration into the fundamentals of RPG fun, delivers lush hand-drawn visuals, an engaging fantasy tale, and an easy-to-use interface. [Atlus USA]

Developer:

IronNos Co.,Ltd.

Genre(s):

Console-style RPG

Cheats:

On GameFAQs

Rating:

T
I'm really happy with Crimson Gem Saga. It goes right up there with Jeanne d'Arc as far as PSP RPGs go.

While many Atlus games tend to only appeal to niche audience of hardcore RPG gamers, Crimson Gem Saga is one of those approachable, fun and rewarding games that will appeal to hardcore players and more casual RPG fans alike.

While the characters are not always that sympathetic, it is the gameplay that truly shines here. This is an entertaining and challenging portable RPG.

Crimson Gem Saga is as classic as modern RPGs come, but it also stands to remind why this genre has been so steadfast throughout the life of gaming.

Crimson Gem Saga probably won't win any awards for innovation, but it's an enjoyable game from start to finish, and one I had trouble putting down.

Crimson Gem Saga's cheery veneer quickly wears away to show a simple, uninspired role-playing game.