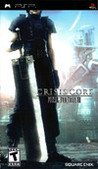 Summary:

Square Enix is brings this role-playing game to the PSP the fourth installment in their Compilation of Final Fantasy VII series which includes the movie "Final Fantasy VII: Advent Children," the game "Dirge of Cerberus: Final Fantasy VII" for PS2, and "Before Crisis: Final Fantasy VII" for m

obile devices.

…

Expand
Developer:

Square Enix

Genre(s):

Role-Playing

# of players:

1 Player

Cheats:

On GameFAQs

Rating:

T
It plays like a dream, blurring the lines between both genres that it covers much more than any other game. And it looks the part too, as it is easily the best looking handheld game you'll see to date, along with God of War.

How much do you love "Final Fantasy VII"? If your answer is anything more enthusiastic than "It's okay", then you absolutely need to play Crisis Core. [Apr 2008, p.96]

The dialogue frequently doesn't make sense, then, and the plot often makes even less.
This is the best handheld game i have ever seen and played!!! it had me hooked the minute i seen how the battle system would play and with ho

w the graphics never failed to show emotion!

…

Expand

Most importantly, this game stays true to the original. Seeing Midgar like this is very nostalgic and it's represented like it should be. Tech

nically it's great, the story is great, the music is a mix of the original themes and hard rock.
The extra missions are boring and not very rewarding, and some new characters are hit or miss.

A must-have for anyone looking for a great PSP game and a worthy prequel to a legendary game.

…

Expand

This review contains spoilers, click expand to view.

The in-game graphics are outstanding and the cinematics are impressive. However, there are some translation quirks and lame afterthought tie-ins to FF7 (i.e. Zack gives Aerith her signature pink ribbon). Some strange design choices prevent this from being a great game. While FF7 was slow, methodical, and strategical, Crisis Core places an emphasis on quick reflexes and luck (a slot machine dictates the flow of battle!). Fans of FF7 should consider picking this game up on nostalgia factor alone, but this spin-off definitely pales in comparison to it's source material.

…

Expand

The graphics are gorgeous. The gameplay - not so much. From annoying controls, a camera that gets stuck on walls, to literally random advance

ment via a game mechanism that steals control during combat, the gameplay just isn't up to par. It could have been so much better.

…

Collapse