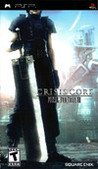 Summary:

Square Enix is brings this role-playing game to the PSP the fourth installment in their Compilation of Final Fantasy VII series which includes the movie "Final Fantasy VII: Advent Children," the game "Dirge of Cerberus: Final Fantasy VII" for PS2, and "Before Crisis: Final Fantasy VII" for

mobile devices.

…

Expand

Developer:

Square Enix

Genre(s):

Action RPG

# of players:

1 Player

Cheats:

On GameFAQs

Rating:

T
It plays like a dream, blurring the lines between both genres that it covers much more than any other game. And it looks the part too, as it is easily the best looking handheld game you'll see to date, along with God of War.

The simplicity and the gambling factor of the DMW are what make the gameplay so appealing. It's fast, easy, addictive and perfectly suited to a portable experience.

Issues aside, Crisis Core is a great PSP game -- no question. It honors Final Fantasy VII's legacy. Even the game's music, while not composed by Nobuo Uematsu, is charming and fits the overall style of the world.

Were it not for the plot and the special significance of Final Fantasy VII this game would invariably fail to stand out in a crowded genre, brimming with innovation and quality. Still, this is Final Fantasy, and that still counts for something.

For any fan of the Final Fantasy games, or Japanese RPGs in general, Crisis Core is a must play purely for how well the story is crafted.

If the words "the death of Aeris" don't bring a tear to your eye, then dropping $40 on Crisis Core certainly will.
This is the most awesome handheld game i have ever played ever, probs even with Patapon. This game is incredibly addictive and everything

about it is awesome. can't see what people don't like about the story. the battle system is great and the end emotional. Amazing, beats Gods of War easily in my opinion, no conest.

…

Expand

Very cool game especially the end almost brought me to tears not only the best game i have every played on PSP best game i ever played.

Really got in to it at the end if you want to spent $40 good game to spend it on!!

…

Expand

I played JPN version and this game was awesome, eventhough it has some boring moments. It has nice combat system and overally rich gameplay.

One of the best PSP titles so far. I have to play it again when USA version is released.

…

Expand

One of my top favorite games for any portable console. The gameplay isn't entirely intuitive, but it works quite well. Of course, that's not

to say the gameplay is boring, I think it's amazing! The storyline, if you have played the original Final Fantasy VII (7), tells you what happens before. The is absolutely phenomenal, in fact, listen to "Fulfilled Desire", the ending song to Crisis Core, that song is fantastic, and pretty much defines the emotional aspect of the game, and of course, the beauty of the music itself. The voice acting is stellar. The voices fit the characters perfectly. The graphics are superb as well. If you want an amazing game, pick this one up.

…

Expand

This is one hell of a game! Extremely addictive, lovely presentation, graphics, gameplay, and sound, the only downfall it has is camera

angles in battles can be so frustrating at times.

…

Expand

this is a brilliant game that takes you on an emotional rollercoaster ride. dont listen to the people who say that this game doesnt fit in

with ff7 because it really does as i played this first cmpleted it then downloaded ff7 off psn and the story fitted perfectly as it had zack in it and it reffered to zack alot but about crisis core it is a great game but the one flaw is the dmw it sort of got in the way with me whilst trying to fight but the random interruptions was annoying but didnt ruin the experiance at all ff7 will always be great game and crisis core is there with it

…

Expand

Well i can sum up my feelings of this game with a big meh. Buy it only if you like androgyny.