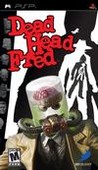 Summary:
Dead Head Fred draws players into an original alternative universe as they embark on a quest for vengeance to solve their own murder by using the decapitated heads of enemies to battle through environments designed to showcase each head's unique abilities. In Dead Head Fred, players take on the persona of private detective Fred Neuman. Savagely murdered and then resurrected in a bizarre scientific experiment, Fred is without his memory or his head! The game immerses players in the action with the most revolutionary camera to date on a handheld device as they collect, upgrade and switch heads on the fly to strategically fight malformed mutants, ghoulish gangsters, and maniacal mob bosses in a unique and compelling story of revenge and redemption. [D3Publisher of America]
| | |
| --- | --- |
| Rating: | M |
| Official Site: | http://deadheadfred.net/ |
| Developer: | Vicious Cycle |
| Genre(s): | Action Adventure |
| Number of Players: | 1-2 Players |
| ESRB Descriptors: | Blood and Gore Intense Violence Mature Humor Strong Language |
Designer/Producer/Programmer credits provided by
GameFAQs
.
If you contributed to this game and feel you should be credited, please read our
FAQ
.
| | |
| --- | --- |
| | |
| | #15 Most Discussed PSP Game of 2007 |
| | #37 Most Shared PSP Game of 2007 |