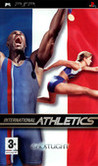 Summary:

(Also known as "Decathletes") International Athletics features fourteen varied track and ?eld events playable in Quick Event, Tournament and Multiplayer modes, all set within international stadiums. Unlock extra events by winning gold medals and compete in the ultimate test of human

(Also known as "Decathletes") International Athletics features fourteen varied track and ?eld events playable in Quick Event, Tournament and Multiplayer modes, all set within international stadiums. Unlock extra events by winning gold medals and compete in the ultimate test of human strength and endurance – the Decathlon – to prove you are the best. Accurate representations of 14 events: 100m, Long Jump, Shot Put, High Jump, 400m, 110m Hurdles, Discus, Pole Vault, Javelin, 1500m, Hammer, Running Target Ri?e shooting, Rapid Fire Pistol shooting and Archery.Hugely detailed international stadiums, including venues in Canada, France, Japan, Spain and China. Single player Decathlon, Tournament and Quick Event modes, and Multiplayer modes for 2-4 players. Achievements – Beat personal bests and world records, accumulate medals and earn trophies to unlock extra events and tournaments. Create your own customised male or female athlete with their own distinctive attributes. Compete in great pass-around and Ad-hoc multiplayer modes, including multiplayer tournaments. [Ghostlight]

…

Collapse
Developer:

The Code Monkeys, Codemonkeys

Genre(s):

Action

,

Sports

,

General

,

General

,

Individual

,

Athletics

# of players:

1-4

Cheats:

On GameFAQs
A solid offering. [Nov 2008, p.84]

Playstation Official Magazine UK

Way superior to rival "Beijing 2008." [Oct 2008, p.103]

A reasonably entertaining athletics title that wins by being the only one of its type for PSP. [Oct 2008, p.73]

A few decent individual events but as a package International Athletics is less Linford Christie and more tedious Tupperware party.

A mundane button-bashing title. [Issue#170, p.85]

A game genre so heavily built around playing with friends it was always going to struggle on the PSP, and poor visuals and presentation don't help International Athletics one bit.