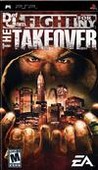 Summary:

Def Jam Fight for NY: The Takeover, the prequel to "Def Jam Vendetta," let's you experience the ultimate hip hop fighting game anywhere you go. Playing as the hottest artists and celebrities in Hip Hop including Busta Rhymes, Carmen Electra, Lil' Kim, Ludacris, Method Man, Redman, Snoop

Dogg, and Xzibit, you'll be able to unravel the events that lead to Def Jam Vendetta and find out how D-Mob got to rule NYC. Featuring new fighting moves and new venues, where players can gain respect by winning fights and rising among the ranks of the crew. Players can create their own fighter with gear from Def Jam University, Phat Farm, Brand Jordan, Ecko Unlimited, Enyce, Rocawear, Sean John, State Property, Reebok, and more. For the first time ever players can battle in 1-on-1 death matches using PSP's wireless functionality. [Electronic Arts]

…

Expand

Developer:

Aki Corp.

Genre(s):

Wrestling

# of players:

1-2

Cheats:

On GameFAQs

Rating:

M
Def Jam succeeds by using its license to the fullest and provides a satisfying Hip Hop themed fighter.

Though the fighting's fundamentally pretty simple - it's basic grapple/counter/hit with lead pipe stuff - the collisions are so meaty that it's difficult to get bored. [Sept 2006, p.78]

An undeniably fun game. At the same time, it's basically a port of a two-year game. Unless you played the game to death though, the stellar presentation and sound gameplay mechanics, make this game easy to recommend.

The Takeover packs just about everything a fighting-game fan could ask for into a nice, compact little package. And while the game's long load times and lack of online play leave an unsightly bruise, the smooth controls, great presentation and sheer magnitude of content are more than enough to make up for it.

A versatile and immersive fighter packed with individual characters, top tunes, and bone-breaking aplenty. [Aug 2006, p.98]

Hip-hop moves fast, and Def Jam seems to have lost its cutting-edge appeal. [Aug 2006, p.93]

Like so many PS2-PSP ports, you won't find much compelling new content, either. [July 2006, p.93]
I have spent half of my teenage years playing Wrestlemania 2000 on N64. This takes me back to the old days, minus the high flying

capabilities. AND it's portable! Pure gold, although the storyline is a bit cheesy.

…

Expand

If you're a fan of defjam vendetta or defjam fight for ny on the ps2 then you'll love this too. Almost a flawless game. I've

beaten 4 times. The only thing bad about it is it has the worst dialogue in between battles that i have ever seen in a game. It sounds like a bunch of white writers trying to be "gangsta". For an m-rated game the worst language used between the fighters is "punk" "sucka" and "chump". Just to name a few. If you can step past that, this is an amazing game worth getting.

…

Expand

First, I am not really a fan of 3D Fighting games. But this is special, I can create my own character with the right 5 Fighting styles

combinations. If you get it correctly you will be able to create character that has speed, power of grappling skills & submissions. This is something that others fighting games do not have. Besides the hip hop-influenced 3D games and bad dialogues, everything else are great and keep you long hours of enjoyment. What a pitty no more new version from this series. I just hope that Capcom can learn from here in producing the newly 2D fighting games using the newly improve super street fighter 4 Engine in future.

…

Expand

I think its a great game but it did not suprise me. If you need a PSP fighting game, get it.