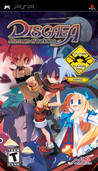 Summary:

Knife-wielding penguin henchmen that double as grenades. A rotten adolescent prince of darkness determined to rule the netherworld by hook or by crook. An open-ended structure that encourages players to keep playing the game and developing their characters long after the main storyline is finished.

Developer:

Nippon Ichi Software

Genre(s):

Fantasy

# of players:

1-2

Cheats:

On GameFAQs

Rating:

T
Disgaea: Afternoon of Darkness is one of those once in a console lifespan type of games, the kind that set the bar far too high for the remainder of the generation - and even for itself - leaving a new console war to (hopefully) reignite the ingenuity and innovation of developers and lead to the next great genre revolution.

Overall, I was very very pleased with Afternoon of Darkness. Welcome back to the front of the Strategy RPG pack, Disgaea. We missed you.

Disgaea: Afternoon of Darkness stands side by side with the likes of Final Fantasy Tactics and Jeanne D'Arc as one of the best PSP games to hit the system in 2007.

A Disgaea veteran who is interested only in the new content may find AoD to not be worth the purchase, but it's a must-buy for any PSP owner who's been yearning for an engrossing strategy RPG. [Nov 2007, p.58]

Arguably the greatest and most substantial strategy RPG you'll get on PSP. [Jan 2007, p.69]

If you're into tactical RPGs at all, or want to see the genre done in a more playful manner than Final Fantasy or Fire Emblem, then this is without a doubt one of the deepest, craziest, most time consuming games you could ever play.

The game really is a niche title that is going to appeal to only a small group. I'm certainly a part of it, but even I feel like the extreme customization gets to be a bit much.
I began to play this game only in 2012, and i think it's one of the best on PSP. I loved Jeanne d'Arc but Disgaea is much deeper in terms of

gameplay and more attractive because of outstanding humor, character design etc.

…

Expand

Exceptional port of the PS2 classic. Contains pretty much everything from the original (and, in my opinion, best) Disgaea game plus a few

additional features. The save and loading times are almost non-existant! Despite ploughing a silly amount of hours into this game a few years ago I find myself doing the same again... brilliant stuff and probably one of the top 3 SRPG's I've played in the last 25 years...

…

Expand

a great SRPG by nippon itchi . this company knows how to make great SRPG's . the story is entertaining the alot of fun special moves and 100s

of hours of gameplay , good voice acting with some deep gameplay. ive never played the PS2 version of this game infact ive never even heard of the disgaea series till i played the 3rd on the PS3 but if you havent as well deffinitly get the PSP version if you have a PSP you get much more extra content . they have added etna mode which gives you Etna as the main charicter and story is told as a what if she killed laharl. the iitem world isnt as good as the 3rd's setup . i also miss the class world because of how easy it is to transfer skills . also staticians seem to do little compared to what they do in the 3rd. still this is the first in the series and just shows you how much they have improved the 3rd . still any SRPG fan should have this game in there collection .

…

Expand