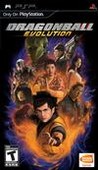 Summary:

In Dragon Ball: Evolution for the PSP system, ultimate powers collide as players match up against their favorite characters from the film release and battle for control of the seven sacred Dragon Balls that have the power to grant any wish. Dragon Ball: Evolution employs an easy-to-learn yet

difficult to master fighting system which provides everyone the power to pull off stylish and dynamic attacks. Ki (energy) management is essential to gain the upper hand and unleash a devastating attack on their unsuspecting opponents. Participating in intense battles, gamers are invited to follow the path of Goku to his predestined fight against the evil Lord Piccolo in Story mode. Players can also battle against a number of opponents in Arcade mode, accept challenges in Mission mode or hone their technique in Training mode. Dragon Ball: Evolution also lets players challenge friends to online feats of strength in Network Battle mode for infinite replay value. [Namco Bandai Games]

…

Expand
Developer:

Dimps Corporation

Genre(s):

Action

# of players:

1-2

Cheats:

On GameFAQs

Rating:

T
It's not a great game when compared to other fighting titles on the portable console, but it's decent and can provide a bit of fun.

Bad graphic, bad gameplay, bad music; this game is the ordinary low-quality tie-in. Evolution is a totally poor bet 'em up. Just don't buy it.

This PSP fighter's limited roster, flat presentation, and dim-witted AI result in a wholly uninteresting combat experience.

That feeling of cheap, lazy design resonates throughout Dragonball: Evolution, a game that ultimately seems more concerned with how often it displays the faces of the film's cast rather than creating legitimate use for them.
Not a terrible game by all means but it's no Dissidia its a decent fighter with decent graphics that conveys a different story than that

saiyan saga we've all seen a million times. Just try to tell me I'm wrong. But the Oozaru transformation isn't very coll at all in fact its a complete Blanka rip off (even the moves)

…

Expand

As a DB fan I was disgusted with the efforts made in this game. I have seen the film, which left me colder than the arctic, but I thought may

be the game will be good. How wrong i was, lacks any substance at all and focuses more on the fact that they are telling a story that never existed in the original Manga or Anime. And I like the touch at the beginning saying "Based on the original Manga" rly? where?

…

Expand