Publisher:

Atari

Release Date:

Mar 20, 2007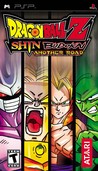 Summary:

Dragon Ball Z Shin Budokai: Another Road takes the intense wireless multiplayer battles and combative gameplay made popular in 2006's game and adds an improved fighting system with over 50 new fighting skills and ultimate attacks and will send players into a completely new story arc

Dragon Ball Z Shin Budokai: Another Road takes the intense wireless multiplayer battles and combative gameplay made popular in 2006's game and adds an improved fighting system with over 50 new fighting skills and ultimate attacks and will send players into a completely new story arc following the future world of Trunks on his adventures against rival Majin Buu. [Atari]

…

Expand

Developer:

Dimps Corporation

Genre(s):

3D

# of players:

1-2

Cheats:

On GameFAQs

Rating:

T
Though nothing truly remarkable, it does provide a great follow up to an already good game. Fans of the PSP and of DBZ should already be on their way to the game store now to pick up this latest installment that will keep you busy for hours.

Rabid fans will struggle to ignore its charms, but if you're not DBZ inclined Vegeta 'bout it. [July 2007, p.77]

It certainly won't draw any new fans that the last game couldn't have, but it should appease fans for a fair bit of time, especially with its multi-tiered storyline.

Dragon Ball fans who just want to battle it out can stick to the arcade gameplay, but the main story mode that differentiates it brings far more frustration than enjoyment.

Only fans desperate for another DBZ on the go should pick this one up. [June 2007, p.86]

Wireless warriors should snap this one up – despite some flaws, there are lots of new options for showing off your skills against other human opponents. Everyone else may as well pick up one of the earlier (and likely much cheaper) games instead.
This game is a much needed imporvement on the original. It adds many new characters, moves, and gameplay elements. Also a brand new

This game is a much needed imporvement on the original. It adds many new characters, moves, and gameplay elements. Also a brand new "alternate" storyline brings a fresh experience to a Budokai game that we haven't seen since Budokai 1 for the PS2 (which gave us the original DBZ storyline).

…

Expand

I don't understand the low Metascore. The game is definitely the best handheld DBZ fighting game in my opinion. Great controls, good graphics

I don't understand the low Metascore. The game is definitely the best handheld DBZ fighting game in my opinion. Great controls, good graphics on the PSP, and great gameplay.

…

Expand

Amazing battles, a very good multiplayer, a fresh storyline, a very good fighting game for the PSP, it's kind of boring fight clon after

Amazing battles, a very good multiplayer, a fresh storyline, a very good fighting game for the PSP, it's kind of boring fight clon after clone in the missions, but all in all a must have for a PSP owner.

…

Expand

A disappointment. I expected more from this. To all DBZ fans, you'll be MUCH better off with Dragon Ball Z: Tenkaichi Tag Team. The gamepley

A disappointment. I expected more from this. To all DBZ fans, you'll be MUCH better off with Dragon Ball Z: Tenkaichi Tag Team. The gamepley is okay, the graphics pathetic, & the game has decent music.

…

Expand