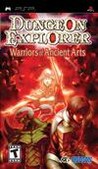 Summary:

The PSP has its own unique story of Three Kingdoms and the heroes that rise up to fight back the looming Evil. Dungeon Explorer: Warriors of Ancient Arts is a fully customizable adventure throwing hundreds of weapons, skills, and fighting styles your way while keeping the classic game's

The PSP has its own unique story of Three Kingdoms and the heroes that rise up to fight back the looming Evil. Dungeon Explorer: Warriors of Ancient Arts is a fully customizable adventure throwing hundreds of weapons, skills, and fighting styles your way while keeping the classic game's exciting multiplayer element intact. [Hudson]

…

Expand

Developer:

Hudson Soft

Genre(s):

General

# of players:

3 Online

Cheats:

On GameFAQs

Rating:

T
Even if 90 percent of the monsters you use said spells against are giant snails, battles are much more interesting than just tapping away at the X button over and over.

Though some may be turned off by just how much of a dungeon crawler the PSP version of Dungeon Explorer ended up being, those willing to hike up their boots and wade into the game's darks depths will be well rewarded. [Mar 2008, p.66]

If you enjoy grinding to unlock classes, and the experience of playing as different classes is more important to you than random loot drops, you could very well have a lot of fun with this game.

The amusing thing about Dungeon Explorer: Warriors of Ancient Arts is that it feels like a preview title; nothing about it is glaringly, hopelessly flawed, but it felt like something that could have improved with some more development time.

Overall, this Dungeon Explorer experience is pleasurable enough for those with a fierce RPG itch, but those who require a compelling story in their RPGs may want to pass. [Mar 2008, p.88]

Graphics are decent, but the sound is obnoxious.