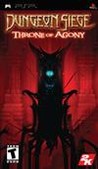 Summary:
Dungeon Siege: Throne of Agony is an all-new adventure, created from the ground up specifically for the PSP handheld system. Dungeon Siege: Throne of Agony features all-new playable characters and a freshly designed, non-linear, single player campaign as well as support for Ad Hoc co-operative and competitive multiplayer games. Multiple characters to choose from - Characters can be customized as they level up into different Hero Classes and then even further into Legendary Classes. Player can choose from numerous Pets and Companions to play with. Gameplay will encourage the player to constantly switch between unique Pets and Companions to use their special powers. Face over 100 monsters including well known monsters from the Dungeon Siege world as well as many new creatures. Multiplayer Cooperative Campaign allows you to play with a friend. Each player can bring a Pet or Companion adding up to a four party experience. Multiplayer Battle Arenas allow a concise, fun party experience for players who don't have time for a full campaign. 15 hours of gameplay with 2 different modes Mercenary and Elite. [2K Games]
| | |
| --- | --- |
| Rating: | T |
| Official Site: | http://www.2kgames.com/throneofagony/ |
| Developer: | SuperVillain Studios |
| Genre(s): | Role-Playing, Action RPG, Action RPG |
| Number of Players: | 1-2 Players |
| ESRB Descriptors: | Blood and Gore Violence |
| Offline Modes: | Cooperative |
| Connectivity: | Wi-Fi |
Designer/Producer/Programmer credits provided by
GameFAQs
.
If you contributed to this game and feel you should be credited, please read our
FAQ
.
| | |
| --- | --- |
| | |
| | #26 Most Discussed PSP Game of 2006 |
| | #30 Most Shared PSP Game of 2006 |