Publisher:

Atari

Release Date:

Aug 14, 2007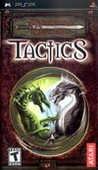 Summary:

Faithfully utilizing the Dungeons & Dragons 3.5 rule-set, Dungeons & Dragons: Tactics allows players to take a party of six adventurers into a wide variety of dangerous environments to experience deep and exciting turn-based action. All of the core races and classes are available to the play

er, including two Psionic classes, the Psion and the Psychic Warrior. Players can customize their characters and store as many as their memory stick can handle. Battle many different types of monsters from the Dungeons and Dragons universe. Play with your friends wirelessly in both cooperative and adversarial game modes. Extend the gameplay experience with downloadable content. [Atari]

…

Expand
Developer:

Kuju Entertainment

Genre(s):

Turn-Based Strategy

# of players:

4 Online

Cheats:

On GameFAQs

Rating:

T
Dungeons & Dragons Tactics is the best thing to happen to the D&D license since Wizards of the Coast commissioned the first Neverwinter Nights PC game.

It may start slowly, but we guarantee you won't want to put it down. [Sept 2007, p.78]

The user menus and interface are done amazingly well on given the small screen with limited controls. This game is definitely not for the casual gamer but if you give it a chance its merits can be large and rewarding.
THE most authentic Dungeons and Dragons game to date. Follows all of the 3.5 rules (which can be confusing to new players) but overall it is

a very deep role playing game with loads of character customisation and tons of different ways to play.

…

Collapse

If you are a fan of 3.5 D&D you will enjoy this game, and it is probably more like a 9/10, if you are not, you will probably not get much enjo

yment. The menu system is pretty clunky and could have used some work, and there are a few minor flaws in the rules adaptations, but generally this is a great adaptation of the 3.5 rules (something we aren't likely to see more of now that 4th edition is out). It really is a lot of fun to play, from the tactically minded perspective. It is driven by exploration, fighting, and improving characters, not really by story.

…

Expand

I would recommend this game to D&D fans only. I wish they did something alot better, like the world map menu's and the names of things a

re quite hard to understand some times. I just for lots of this game more annoying then fun. It is under par tactics game imo but then again it does have a spark of origionality.

…

Expand

Interface is terrible, gameplay is incredibly inauthentic (Scorching Ray is NOT supposed to be an area effect), etc. Oh, and if you have 500

feet of tunnel to go through with no enemies along the way, you have to tediously move every character every single foot of that in turn. God help you if you have a character that moves 20 feet or less.

…

Expand