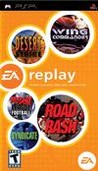 Summary:

EA Replay Title List: B.O.B. - Help B.O.B. blast his way through alien goon squads and rendezvous with his galactic babe. Budokan - Walk the path of the warrior as you master the most deadly martial arts. Desert Strike - With a fiery blast from your Hellfire missiles you must annihilate a

EA Replay Title List: B.O.B. - Help B.O.B. blast his way through alien goon squads and rendezvous with his galactic babe. Budokan - Walk the path of the warrior as you master the most deadly martial arts. Desert Strike - With a fiery blast from your Hellfire missiles you must annihilate a ruthless tyrant's military arsenal. Jungle Strike - The Desert Madman is dead. Now his vicious son plots a nuclear strike against the U.S.A. Haunting Starring Polterguy - Scare an evil family out of their house by being scary, funny, or just plain gross. Mutant League Football - Anything can happen when mutants battle to prove who rules the galactic gridiron. Road Rash - Blow opponents off the backroads in California's most illegal, unofficial, and dangerous race. Road Rash II - Road racing isn't just a sport. It's an attitude! Cruising cross country just got a lot hairier. Road Rash III - Keep an eye out for wildlife and other hazards as you engage in a 150-MPH bike brawl. Syndicate - Sources indicate a rival syndicate has developed a dangerous new computer program. We want it. Ultima: The Black Gate - Solve the mystery that has befallen Britannia before its manifestation is complete. Virtual Pinball - You design the pinball game, you build, you play it. Wing Commander - Lead your elite Tiger's Claw squadron against the forces of the Kilrathi Empire. Wing Commander: Secret Missions - Come face to face with the ultimate threat to mankind—a weapon capable of destroying entire planets! [Electronic Arts]

…

Expand
Developer:

Team Fusion

Genre(s):

Miscellaneous

# of players:

1-2

Cheats:

On GameFAQs

Rating:

T
Newcomers will find enjoyment within at least one title and, if nothing else, will enjoy experiencing a little of our rich gaming history. [Issue #147, p.91]

A good collection of once-great hits – some that have stood the test of time, and some that have not.

Each emulation is perfect and playing them with the PSP analog or direction pad is flawless.

EA Replay contains a few genuine classics, but most of these 16-bit games haven't aged well, which makes them hard to come back to.

Official Playstation 2 Magazine UK

One for completist retro-heads only. Too many duds spoil the murky broth but there are some classics and near-forgotten gems tucked away here. [Christmas 2006, p.92]

The real gem, though, is Mutant League Football, which more than makes up for the absence of any of the Madden titles because it's better than all of them.

Shoddy conversions of shoddy conversions – some of these weren't worth playing in the first place, let alone again.
Picked this up a few days ago. There are a few good ones, and a few where age has not been kind. Probably worthwhile for Desert Strike,

Picked this up a few days ago. There are a few good ones, and a few where age has not been kind. Probably worthwhile for Desert Strike, Jungle Strike, the Road Rash series, and Mutant League Football, which is the whole reason I bought the collection in the first place.

…

Expand
| | |
| --- | --- |
| | #98 Most Discussed PSP Game of 2006 |