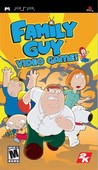 Summary:

The first video game based on the hugely popular Family Guy TV show, the Family Guy game will feature the same outrageous humor all the fans know and love. Play through three stories that intersect in typical Family Guy fashion. Play as the loveable Peter, the diabolical Stewie and the chari

smatic Brian. Visit familiar locations around Quahog and interact with many beloved characters from the show. Funny and unique combination of combat, stealth and puzzle-solving gameplay. Take part in the jokes, parodies and sarcasm as though you were part of the show. [2K games]

…

Expand
Developer:

High Voltage Software

Genre(s):

Adventure Games

# of players:

1 Player

Cheats:

On GameFAQs

Rating:

M
What's most impressive is the way a lot of humor is injected into the actual gameplay.

It's a decent rental, in the same way that a softcore flick about aliens coming to earth to learn the ways of love is fun once, but there's no real longevity to any one part of the game.

Though it gets the show's style of humor down pat, Family Guy is derailed by frustrating and uninteresting gameplay.
It's a well made game! It deserves more credit than its getting!

One of the worst game ever. I hope family guy fans don't go out to buy this because it is a waste of money. the charcters are bland the

levels are boring. The only good part is the voices and that raises it all whole 2 points

…

Expand

Rubbish. Absolute rubbish. I was completely dissapointed from many points of view. Jokes were constantly being reused, the gameplay is just a

weful, and the graphics had the potential to be good, but they were bland. The only real good thing about it was the voice acting. I'm not a Family Guy hater since I completely loved the first 3 seasons, but this game is just aweful, and the sad this is that Family Guy drones will buy it simply because it is about Family Guy.

…

Collapse

Reused jokes and boring game play hold this game back, it's so boring and the story is garbage I am a huge fan of the show and I hated this, d

o not buy this game you will regret it.

…

Expand