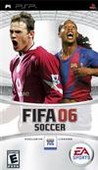 Summary:

FIFA Soccer 06 brings the total football experience to your fingertips. It delivers a combination of attacking gameplay, complete customization, pure authenticity and the deepest manager mode ever. Intuitive gameplay enables you to command every move of your player with pinpoint accuracy.

FIFA Soccer 06 brings the total football experience to your fingertips. It delivers a combination of attacking gameplay, complete customization, pure authenticity and the deepest manager mode ever. Intuitive gameplay enables you to command every move of your player with pinpoint accuracy. Passing, shooting and tackling is now more responsive than ever and enables you to trap, shield and dribble like a world-class football player. Experience 90 minutes of heart pumping football, feel the Team Chemistry of your side and the sense of momentum shift as you battle for supremacy on the pitch. As the Midfield General you'll control the overarching strategy of the game, dictating the pace and performance of your players as you execute strategic decisions on the fly using the tactical play button configurations. [EA Sports]

…

Collapse

Developer:

EA Sports

Genre(s):

Sim

# of players:

2 Online

Cheats:

On GameFAQs

Rating:

E
A delightful experience. The game truly captures the atmosphere of soccer.

Evidently, EA Sports has been hard at work these past six months, because FIFA 06 not only addresses the aforementioned problems, but also adds online play and an entertaining ball-juggling minigame to the mix.

With the camera pulled back so far, the ball can get pretty tiny. Other than that, it's all solid, and a big improvement on last season. [Nov 2005, p.98]

It's fun to play, even if the managerial options of our season are missing. [Nov 2005, p.182]

It's smoother, feels better and doesn't feel so much like a PS2 game squeezed into a PSP's body.

Initially it appears that EA have been happy to just release last year's version albeit with an unneeded visual lick of plaint and this season's player/team data; further play however reveals that the game actually takes a step backwards in many areas.
This game is one of the best soccer games ever!!

I think it is a great game especially the online part of it.

I think FIFA 06 is a big time improvement over last year's version. Play is much more fluid and the game doesn't pause when the

I think FIFA 06 is a big time improvement over last year's version. Play is much more fluid and the game doesn't pause when the ball is going out of bounds. You also don't have to be right in front of the goal in order to shoot on goal. Online play has also been enabled and the mini game is fun. Cons - Player controls may not be as responsive as they should. Also, you have to sign up with SoccerNet if you want to play online...either that or pay a fee with your credit card. WTF?? I mean this was a big disappointment...after shelling out 50 bucks + they try to squeeze a couple more dollars out of you. It is a nominal fee but still...paying to play a video game is a dangerous precendent. Overall, I am happy with FIFA 06 and would without a doubt upgrade, if you are a FIFA fan, from last years game.

…

Expand

This is an OK game, but I don't know why it has got a better score than Pro Evo whixh is a better game. Avoid this game and get Pro

This is an OK game, but I don't know why it has got a better score than Pro Evo whixh is a better game. Avoid this game and get Pro Evolution 5 as it has only got lower scores as it is not as good as the PS2 version that was expected.

…

Expand

this game was rushed. bottom line, its crap. major visual bugs, slow unresponsive gameplay. i am also puzzled as to why it has received high

this game was rushed. bottom line, its crap. major visual bugs, slow unresponsive gameplay. i am also puzzled as to why it has received high ratings elsewhere.

…

Expand

I honestly can`t believe people have actually given this garbage 10/10. Its one of the worst games I have ever played. The gameplay is

I honestly can`t believe people have actually given this garbage 10/10. Its one of the worst games I have ever played. The gameplay is incredibly slow and jerky, and the controls are totally unresponsive. EA should be ashamed of themselves, as they have released a game not worthy of the original Game Boy, never mind the technical wonder that is the PSP. Avoid this travesty of a game, IT STINKS!!!

…

Expand