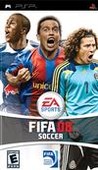 Summary:

FIFA Soccer 08 challenges players to master the skills required to play like a pro soccer player. Fans around the world can experience the same highs and lows of real-world players and tackle the challenges they face on a daily basis. FIFA Soccer 08 puts you on the pitch to defy the odds, p

erfect your skills, elevate your game and rise up to win glory for your club. [Electronic Arts]

…

Expand
Developer:

EA Canada

Genre(s):

Soccer

# of players:

2 Online

Cheats:

On GameFAQs

Rating:

E
While it isn't anywhere near the improvement of the 360, it still packs quite a punch.

FIFA 08 on PSP is a solid soccer outing, there's no doubt about it. It will keep players entertained for a lengthy plane ride or a boring college lecture, even if it does borrow many of its modes from the PS2 version.

Solid, well presented and enjoyable. Just the right level of challenge for the PSP. [Dec 2007, p.56]

It still can't quite keep up with "Pro Evo" on the pitch in terms of purist authenticity, but FIFA 08 is a huge, glinting treasure trove of features and modes with accessible gameplay and solid presentation.

The PSP version of FIFA 08 is packed with features and game modes, although the football itself could use a bit more work.

While one of the the biggest issue with the series lies decidedly with the console's controls itself, it's hard to lay all the blame on the game itself completely; but it remains difficult to recommend this over its home console versions, as ubiquitous as they are.
Pretty good and in fact an improvement from the last version, but only because of the multiplayer online, yet the gameplay is still far remov

ed from the still superior PES6, all PES6 needs is online multiplay and a few more stadiums and it will be perfect, thus Fifa does give you a multitude of options, choices and almost football manager simulation, but when it comes to the hands on gameplay it still feels like making stick men jump. I can't recommend , I would say wait a little till the next PES comes out.

…

Expand

I am very dissapointed with this game. I call it this year " the most subreal & chaotic "soccer game I've ever seen on the PSP. EA does

not learn the lesson of drstically changing the in game engine experience.

…

Expand

The game has so many features and gleaming presentation, that the game seems great at first. its only when you start a match when you realise

it is an awful football game, it is impossible to score even if you try the hardest difficulty you will end up with either a goaless draw or a narrow loss. you just have to try and cheat at the game instead of playing proper football. Also all the players are more or less the same -> so nearly all the teams are the same -> and all the matches the same. the official fifa license means nothing. Get Pro Evolution Soccer 2008 instead.

…

Expand

Cant even compare to PES 6, stuttering graphics, washed out textures. Please try it before you buy it.